National Standards
The National Standards page is for entering OTJs and interim teacher judgments either directly, or synced from PaCT.
In Achievement > Assessment - Achievement, click on the National Standards heading at the top. If the desired class is not displayed, select the class from "Classes" on the left side. 
Direct entry for teacher judgments
Now click on the down arrow for  NS (Maths), NS (Reading) or NS (Writing).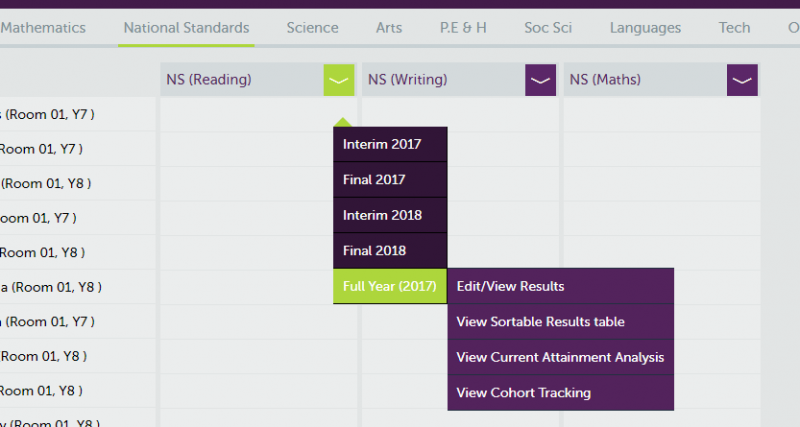 Select the OTJ period (for example 'Interim 2018') for your students.
Note that for data already entered you can analyse the results here.
Select the teacher judgments for each student before you click "Save". For the first 3 years this can be done individually as each student's anniversary is reached and the students will be displayed in Date order. 

  Where a Y4 Student is also due for an after 3years OTJ in the same year please click on the pencil with the + to Add new and enter the Y4 result at the end of the year.
 Viewing or selecting a teacher judgment in Teacher View
Once edge has synced and a student has teacher judgments in PaCT, when you navigate to the National Standards data entry page in Achievement > Assessment - Achievement, you can select a judgment for a student using the PaCT Judgment column.

Using Global update
From the PaCT Judgment drop down at the top, you can fill all students who have PaCT results with either the latest teacher judgment, or latest PaCT judgment. If there are results already entered for a student, the Global update will not overwrite existing results. An existing edge OTJ will not be replaced by a PaCT result, unless adding a new result using "Add new".
To enter a new result, click beside the NS (Reading),  NS (Writing), and  NS(Maths) using  "select other result" icon shown below. Then click "Add new".

If there are results already entered for a student, selecting from the individual drop downs in the Judgment columns enable overwriting of existing results.
You can also select individually from the drop down for NS (Reading), NS (Writing) and NS (Maths). 
Looking for more answers? email support with your question.