Online Payments through the Caregiver Portal
The Caregiver Portal enables online availability of student data and online bill payment functionality, conditional on permissions and setup by your student's school.
Making Online Payments through the Caregiver Portal.
Select 'School Payments' tab for an account summary, and list of currently owing items for which the student has been billed.
If you wish to pay all outstanding amounts, click "Pay All Items" link to pre-populate the total amount owing against each billed item - the total of all items is displayed at the bottom.
To pay an individual amount, the desired payment can be entered against each item, the School Payments page displays all amounts yet to be paid. The total amount paid cannot be greater than the billable item total, or be less than $1.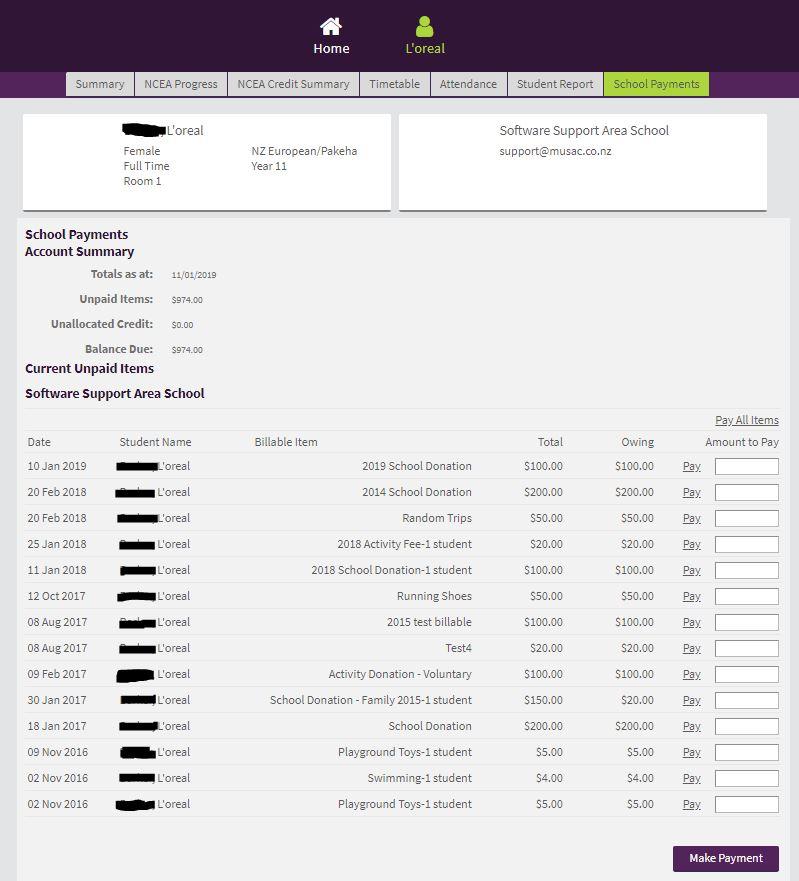 When you are happy with your selection click 'Make Payment' which directs you to select one of two payment methods POLi™ or Paystation, where instructions guide you through the process (the options available will be dependent on your school).
How do I make POLi™ payments online?
From the 'Payment Pending' page, click 'Proceed using POLi', confirming your bank details and you will be required to log into iBank. Once you have clicked OK, success and print options are given before logging out on the left. Enter your email address and click 'Send' if you require the receipt (recommended) to be emailed - and print options for hard copy receipt. On completion of payments made, click 'Return to Musac Caregiver Portal' where a success or failure screen is provided.
For making caregiver payments online directly from edge using POLi™, watch our How to use POLi™ video. Your school sets up the access to this payment option. Settings saved by the school's Financial Officer in the 'Site Access' Student Access fields for relevant year level/s are one setting which also governs access to Reports data etc. It's therefore possible that caregivers may not be able to view all students' details if their year level is not ticked in the general School Settings tab for access.
Make secure credit/debit card payments using Paystation
For information on Paystation payments (which first needs to be set up by your school), see more.
Looking for more answers? email support with your question.