Student
Mark an individual students attendance.
Marking attendance for an individual student
From the Attendance tab to mark attendance, on Student tab teachers will select your student and if necessary, adjust the date range which defaults to today. Where any notes have been saved on the student, this will be displayed.
Record from the options for Unexplained, Late and Present and any reason for change, if appropriate. Depending on your school setup, there may be other codes from a drop-down you have access to.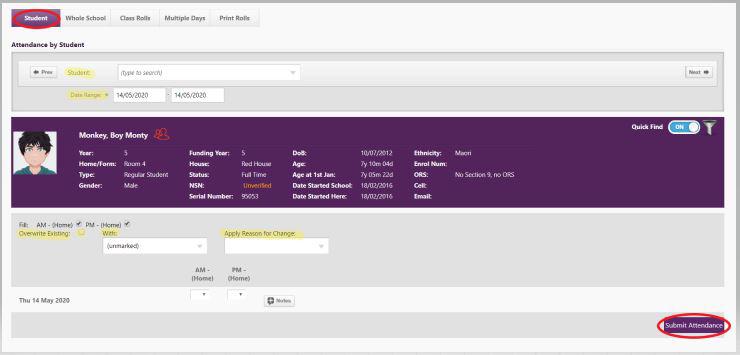 To correct attendance data, select the date concerned, tick the 'Overwrite Existing' box and select the required code and 'Apply Reason for Change' from the drop down menu and 'Submit Attendance'.
See table of Attendance Codes (sorted by Audit Code) together with attendance rules.
To mark the roll, the student can be marked quickly L or ? by clicking in the appropriate column.
Click 'Submit Attendance'.
Note that when edge Enrolment Officer responsibilities are processing a leaver, they will be prompted to remove any attendance data entered after the leaving date entered.
For others who manage Attendance:
There is one tab headed 'Class Rolls' for use by Attendance Officers.
MoE Circulars on the www.minedu.govt.nz site (search results 'Electronic Attendance Circulars') provide a list of the attendance and truancy definitions and requirements for attendance recording.
To mark rolls which have not yet been submitted, see from the Dashboard 'Today's Unsubmitted Rolls'.
Teachers will be able to view those students from their own class/es only.
Click 'Submit Attendance'.
Looking for more answers? email support with your question.