March
March Release notes
New Finance Features
- you can now add logo and a signature to your receipts under Finance Settings.
- Customisable email template added for outgoing financial emails
-New financial list to show what unallocated credits were used for.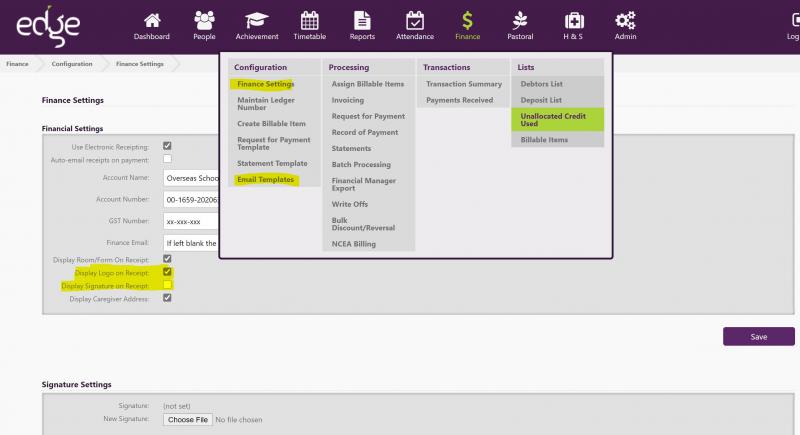 Updates
- A flag has been added to caregiver details and online enrolment to hide contact details in portals. The flag can be set when editing caregiver details in Edge, and on the OLE form by the caregiver in the caregiver detail section. NB, the flag is set per student-caregiver relationship as this is how all caregiver flags are handled in Edge. If a caregiver has the hide contact details flag set in respect to ANY student then their details will be hidden from ALL caregivers who also have a caregiver relationship with that student, when viewing ANY student. This is to stop people circumventing the block if the flag hadn't been set on each individual caregiver-student relationship.
- Staff can now edit incomplete pastoral records that they created even if they don't have the Pastoral Officer role. This can be done by clicking the Pastoral icon in the top bar in Teacher mode and clicking on a student or their pastoral record counts. It can also be done from the student details page by clicking on the pastoral bubbles (with the counts) and clicking on a button next to the record. This second method also works in admin mode so that non-teacher non-pastoral-officers can also edit pastoral records they created.
- Information on the i on the NCEA Student Summary page only appeared on hover. It now also appears on click.
Bug fixes
Multiple fixes including
Fix for errors that could appear when approving online enrolments.
Fix for missing ENROL widget. Ie. Save had to be clicked to make it reappear.
Fixed the missing Save button on Staff Registration page.
The correct year level now shows on CCR if they are a leaver.
Leavers can now be removed from bus lists.
Fixed the issue where the timetable edit buttons (step 7) disappeared off screen.
Fixed the Duplicate Staff Service Periods error that occurred after editing a staff member.
Fixed the error where students with a Not Stated ethnicity could be exported from the Pastoral page.

Invoices and statement generation no longer times out. Sped up the loading of the previous year's markbooks.

Fixed the attendance rolls that were not showing on iPhones when the class name contained macrons.
Fixed the Download fail when using Chrome browser.
MoE Roll Returns 2021 – as per MoE specifications
 Special schools are now referred to as 'Specialist' schools
 Field name change - ORS AND SECTION 9 becomes - ORS AND SECTION 37.
 Validation rules 673 and 674 - The term "Health camp" is replaced by "Health School"
 Pacific Medium - Language - Code list expanded to include additional languages.
 STP - Updates to Provider names - New validation warning 695 - International Fee Paying Students cannot be recorded as STP.

Subjects - 10 new subject codes added: Fijian, Kiribati, Nauruan, Pukapukan, Rotuman, Solomon Islands, Tahitian, Tuvaluan, Vanuatu (Bislama), Vanuatu ( Other Languages).

Validation errors 241, 242 and warning 617 updated so as to run on March returns as well as July

Tuition fees - New validation error 696 - Regular students with tuition fees recorded.

Donations Scheme - The declaration screen has been updated to include a separate heading for the Donations Scheme to make this question more visible for schools - The school can view what they responded to with this question after sending in the roll return, and their response is printable along with the roll return tables in the table footer.

 Student Address Data Quality - Address4 is for postcodes only allows numeric characters.