Getting Started in Pastoral
The Pastoral functionality in edge enables schools to record a 'Problem, 'Support', or a 'Positive' record on a student. Currently the functionality incorporates some of the MoE prescribed PB4L specifications, however each school can choose to what level these features are used. A staff member with Account Maintenance user responsibilities rights needs to have ticked the 'Enable Pastoral' box under Pastoral Settings from the Admin > Setup - School Settings > Pastoral Settings area first.
Setting up fields to enter Pastoral records
The Pastoral Configuration page is only available to those assigned the Pastoral Officer responsibility by your Account Maintenance person.
Admin > Configure User Responsibilities, choose the user, tick 'Pastoral Officer' and click 'Update'.  The Pastoral Officer will need to log out of edge and back in to see their new user rights located at the top of the Dashboard titled 'Pastoral'.  

In edge the recording of pastoral incidents is displayed in the Pastoral process diagram, our Pastoral Configuration video, and entering pastoral incidents video.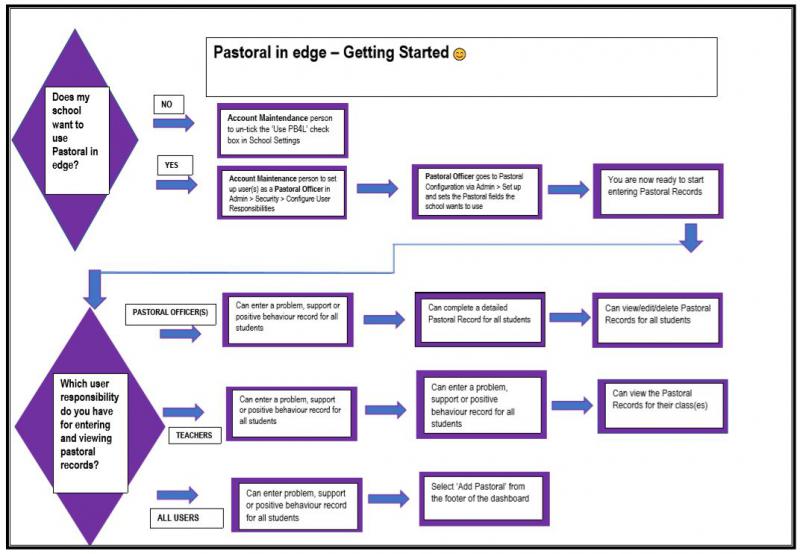 The Pastoral Officer responsibility accesses functionality for your school to determine some of the fields to use in recording pastoral events. The edge pastoral list already includes the possible Problem Behaviour fields required for PB4L, a field to use for Support, Positive Behaviour (Positive Type) and a field to use for Rewards.
Configure Lists
Problem Behaviour Fields
The fields which are available for defining by your school are:
Type of problem behaviour

Response (consequence for the student)
For School-defined fields including Location, your school can add as many values as required, and these can also be removed making it unavailable for selection. If the value has been used already in a student record, it will still be displayed as part of the student's pastoral record.
The following pre-defined PB4L fields cannot be amended, and therefore are not displayed in configuration:
Severity

Motivation

Others Involved

Support Type and Support Actions
Selecting the Support choices from the configuration dropdown displays the fields you wish to use for adding student data. Once these are saved, they are available to select from the Support tab in Pastoral > Add a new Record.
Positive Behaviour Field
For a Positive Behaviour Record, select 'Positive Type' from the drop down list. You can add as many positive behaviour types as you like, and each behaviour type must have points associated with it.
Rewards Field
For a Reward, select 'Rewards' from the drop down list. You can add as many reward types as you like, and each reward type must have points associated with it. The points are the number of Merit points a student must have in order to obtain that reward.
Incident Completion
The Pastoral Officer determines what constitutes 'Complete' in terms of a pastoral behaviour record in your school. The default is the first option - for all PB4L fields to be entered. If not using PB4L, you can choose to record just the behaviour type and consequence for the student.
'Incomplete' records are displayed on the Incomplete Records page available to the Pastoral Officer for follow up. 

Add Pastoral Record from the footer
The 'Add Pastoral' note is present on the purple footer, enabling all staff to add a pastoral record. This pops up an 'Add Behaviour' lightbox which defaults to problem behaviour, but using the radio button can be changed to a support or positive record for the selected student. It should be noted that to add or edit a pastoral record, this must be within the current year.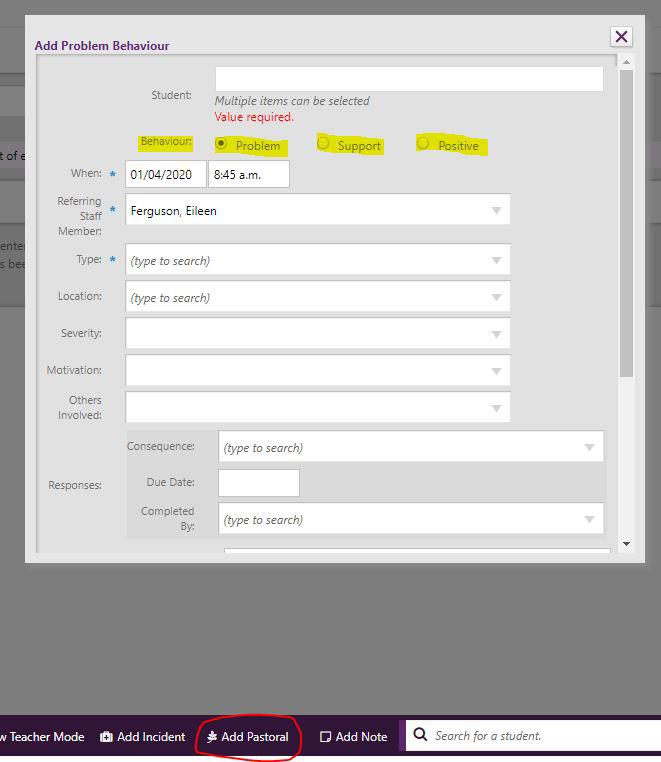 Looking for more answers? email support with your question.