July Roll Returns
The main aim of the July return is to count students in order to determine school staffing for the following year. In Secondary and Area schools subject information is also gathered for statistical purposes.
Introduction and Process
Use the Ministry's Education Counts roll return guidelines document available to help with requirements for MoE returns, which can change from year to year eg. there may be new data fields added to collect different data. Also available to guide you is our edge Ministry Returns video demonstrating a primary school return. 
Ministry returns are summarised with more information on our Summary page.
All student records require an NSN, except students who have left school, and student types EM and NF. Zoning information is mandatory.

Secondary schools have Secondary Tertiary Programme data included, and Youth Services Initiative personal details fields are included unless the 'Withhold Contact Details for Youth Services' checkbox is completed on the Edit Student page. Schools must notify students and caregivers regarding the details to be included in the extract.
Once the data has been checked and free of errors, the file can be submitted electronically to the MoE. The submission link is available from the MoE Returns Summary page, but only during the official roll returns periods. 
Checking and correcting your data
In summary, the process follows:
Prior to 1 July use Check Data (Admin > MoE Returns > Check Data) to list any data errors or warnings. Ensure the Roll Returns Period is set to the Roll Returns for July as below:
Print these out using the 'print data validation report' link then correct them through People > Students > Students Details.
Errors must be corrected, however warnings may be okay with the data being just outside of expected parameters
Printouts such as 'print data validation report' will appear as a link for you to click on the page, then select 'Open' as the next choice. You may need to click F5 to refresh the page to see this link

A full school list can be generated for cross checking using Enrolments > Summary > Enrolment Summary > Print All Enrolled
Marking Rolls (No longer required)
Class Rolls should be printed for 1 July. We received updated requirements from the MoE on 23 June on marking audit class rolls. The MoE now only requires the roll to be marked on roll count day, 1 July. This replaces the original 3 day specification. Only the 1 July column on the edge generated audit class roll printout needs to be marked and signed by teachers. The edge specification covered three school days of the Roll Count Period. Enrolments > MoE Returns > Class Lists.

Class Teachers need to mark the roll for the official count day, 1 July, then sign and return the roll to the office before the end of 1 July;
The one roll is programmed to the specification, covering all three days - only the 1 July column is required. These lists are kept for roll auditing.

Schools are no longer required to complete the audit class lists effective from 2016.
Roll Count Day
1 July is Roll Count Day. Once your data is error free, a full school audit list should be printed and used to cross check your class lists. To do this:
Admin > MoE Returns > Check Data > Validate and Create file to create your .moe file from which an Audit List can be printed.
To print this file, from Admin > MoE Returns > Audit Log click on the relevant link under the Roll Return Files heading.
Printing and Submitting your .moe file
During official roll returns periods the 'Print Files' and 'Submit File' links are activated. Admin > MoE Returns > Summary. Once your data is error free and cross checked the Roll Returns Tables can be printed and signed (for auditing purposes) then the file can be submitted electronically to the MoE by clicking the link alongside each step.
When you click the 'Submit file' link edge will check the connection to the MoE server. You will need to have the user responsibility of Principal Nominee to action Step 3 of the MoE Roll Return - Electronic Sign-off & Submit and be added as an Approver.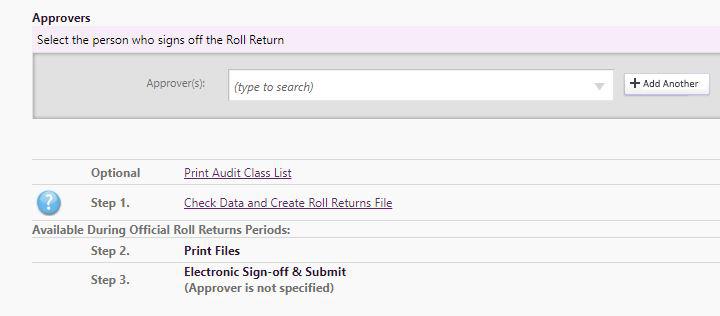 Common questions
If a student leaves on Roll Count Day do I count them on my school roll? Yes. If they leave on Roll Count Day it means they left at the end of the day.

If a student arrives on Roll Count Day do I count them on my school roll? Yes, as theoretically they left their previous school at least the day before.
Common errors
The most common errors are:
Addresses missing - edit in Student Details > Caregivers tab

Year Level Errors - This Year vs MoE Year

Boarding Status - cannot be blank
Probably the most common 'error' that MUSAC has been contacted about during returns time is apparent miscalculations in the number of students at each year level. Schools must note that Returns tables are calculated on a student's funding year level, ie. calculated from the 'First Schooling Date' field, not the 'School Year Level' field. While these fields are usually the same, errors can be made in the data entry, or beginning school after July 1 therefore a MoE Year 0, although the school may have their 'School Year Level' field as Year 1.
Other data errors
Start Date Here - check the First Schooling Date field

Year of schooling is missing - Enter a value into the 'School Year Level' field

A Full Time Student must have '1.00' entered in the Full Time Equivalent (FTE) field

Enrolment Status must be 'enrolled'

Some subjects are showing too many hours

My FTE (Full Time Equivalents - number of students) is not quite right. Usually the number of hours recorded on Part Timers has been entered incorrectly
Connection to Ministry Server and Passwords
This is usually handled automatically by edge, however if you receive an error when submitting your .moe file please contact the Edge Learning Support team on 0800 600 159 or email support@edgelearning.co.nz
Looking for more answers? email support with your question.