Admin
The Admin tab is not available to most users as the functionality is not required on a day-to-day basis. This is set by your school's Account Maintenance person. This covers areas such as Setup, Security, Import/Export of data and MoE Returns within your school.
Settings for your own school often governed by school policy are saved in Setup.
Daily announcements (notices), calendar definition, control of user logins and monitoring of some import/export tasks is also available in the Setup area.
The Admin menu covers a wide range of settings, including:
edge login access

early notification for attendance

vertical or horizontal group type, house settings

upload of school's logo

use of PB4L for pastoral recording

enrolment number for students, and use of enrolment scheme

ATL check box to display the Attitude to Learning tab

default schools for regular transfer using Student Record Transfer 

MOE Returns

Security, logins and password resets

External assessment data import/export

Setup of Markbook Configurations, Category Setup, Online Enrolment Setup, Notification Settings and Curriculum Level Configuration.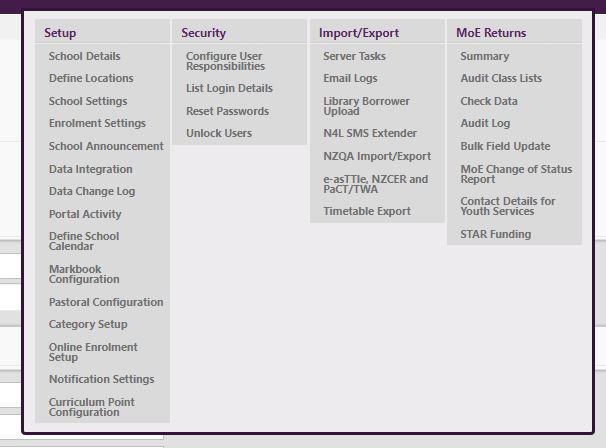 Looking for more answers? email support with your question.