Mark Attendance
Attendance tab for your Class Roll(s)
​​​Where do I mark attendance?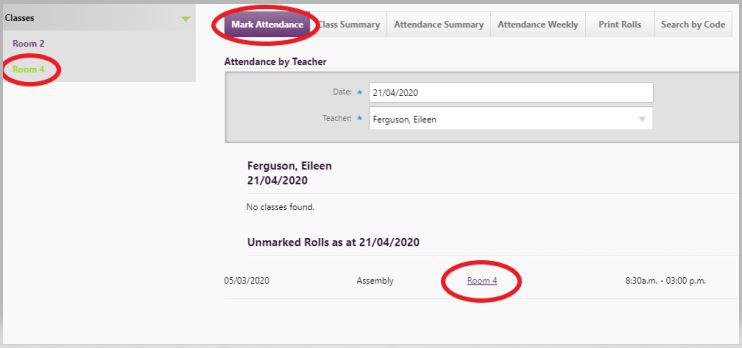 The quickest way is directly from the Home page 'Unmarked' link for today's class(es) listed chronologically; or from the Attendance tab to mark attendance where your student rolls are listed, with choices for Unexplained, Late and Present. Depending on your school Administrator's setup, there may be other codes from a drop-down you have access to. All primary teachers, and in the secondary environments - form teachers, can change their attendance view by clicking the "Mark all periods" link for the whole day. You can also mark all periods for any groups that you are the teacher responsible for.
To mark the roll, students who are not yet present can be marked quickly L or ? by clicking in the appropriate column beside each student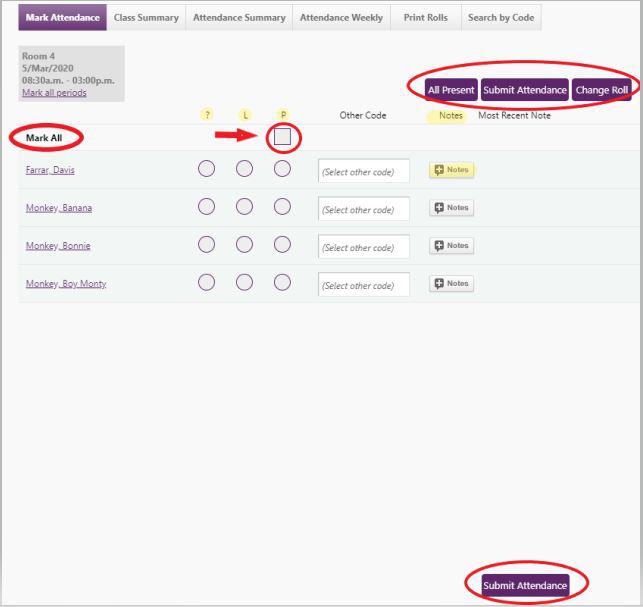 After checking the roll, click 'Mark all unmarked entries to P' which marks the rest Present

Notes may be added regarding attendance.   These are displayed for teachers and Attendance Officer responsibility in edge (for the relevant day). Start and end dates are entered, with messages valid on the day displayed on all Attendance pages where the student to which the notes has been added appears. When a note has been saved, the colour of the Note button changes to highlight a note has been added, and the number of notes is included.

Click 'Submit Attendance'

To see a different roll click 'not the roll you are looking for?...' at the top of the page. This links to any other classes you have been associated with, together with date selection.
Any staff member with edge Teacher responsibility can view and mark their unmarked rolls for the current year also.
For more information, MoE Circulars used by Attendance Officers are on the www.minedu.govt.nz site - type into search box 'Electronic Attendance Circulars' to provide a list of the attendance and truancy definitions and requirements for attendance recording.
Looking for more answers? email support with your question.