Overview
The student details 'Overview' page gives you summary information on the students in your class(es), group(s) & year levels (you are associated with), and access to their medical and caregiver details. Clicking the student name links to their summary details, also including access to their timetable.
Viewing students' summary information, medical and caregiver contact details

This page provides summary information on your students. 

Click the 'Medical List' button for a PDF report listing students' personal details, immunisation and medical data.

Email/App gives you the ability to send information to students or caregivers directly from Edge. All recipients are BCC (Blind Carbon Copy) which means no one will see any persons email address or details. Recipients will only see the email address of the staff member.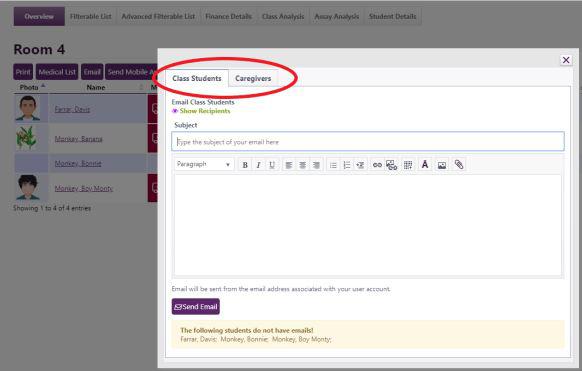 For Caregiver Details click 'view detail' in the Caregiver column to display a lightbox showing caregivers attached to the student, telephone numbers; and status for legal and emergency listings.

It is possible to add an Enrolment Note for a student by selecting the 'add note' link. This also displays all previous Enrolment notes for the student.

This is a view-only display.
Looking for more answers? email support with your question.