People
The People area focuses on Students, Staff, Caregivers; and Membership aspects.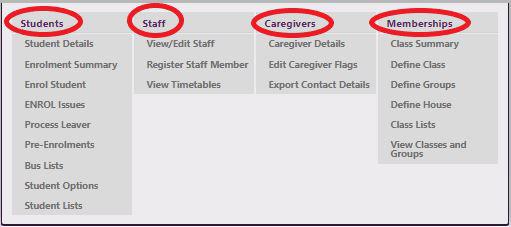 Students
Adding, editing, removing student details - follows the student's journey through the school from pre-enrolment to leaver status. This area includes:
enrolment summary, student counts, ENROL issues
Student details
bulk student photos import
recording notes and medical data
group membership
Printing information generated from lists. 
Staff
Adding, editing, removing details for staff, including viewing past staff
Viewing Timetables
Caregivers
Adding, editing, removing Caregiver details including their email address
assigning caregiver flag status with caregiver contact details
Export Contact Details
Memberships
Options include: Class Summary. Define Class, Define Groups, Define House. Class Lists and viewing Classes  and Groups to email out.  
Looking for more answers? email support with your question.