MoE Returns
Roll Returns to the Ministry of Education are due in March, June, July and September each year. Check our MoE knowledge base pages for your primary or secondary school requirements as the reporting varies according to school type.
The Ministry roll returns calendar for 2019 follows. See more in our Changes article.
Of note, the March return for all schools falls on 1 March 2019 (Friday); the July return roll count day is 1st July 2019 (Monday).
For schools year 9+: June return = 1 June 2018 (Friday), 2nd September 2019 (Monday) 
E-Returns Official Timeline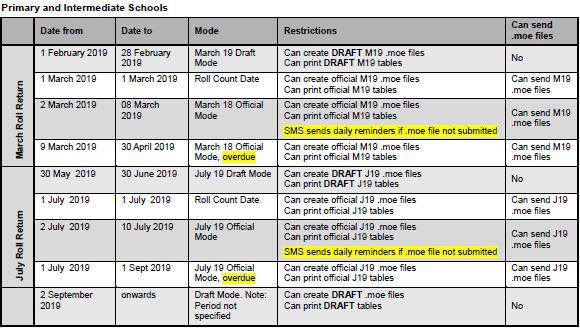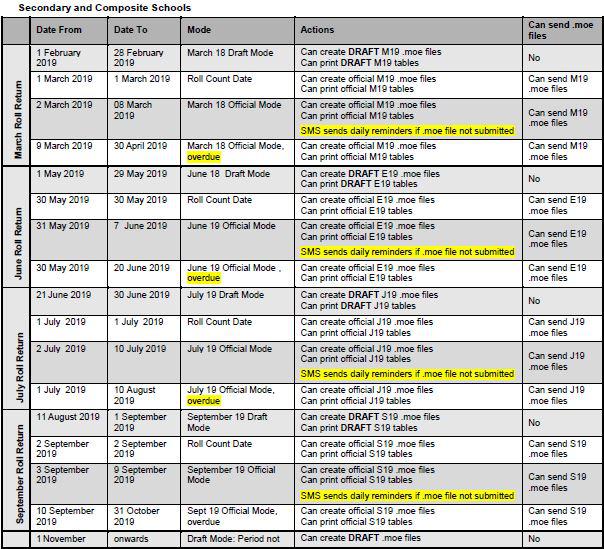 We recommend regularly checking your data. For edge Enrolment Officer responsibility, any issues with enrolment (and ENROL) details are brought together.
Check out the Ministry Returns video for primary and intermediate schools, and ENROL videos available in our knowledge base.
For further information about the 2016 Audit requirements please contact:
Philippa Richards
Ministry of Education
Private Bag 1971
Dunedin 9054