March
March 2018 release notes
13th March 2018
Admin
ENS Providers:
MGM Wireless has been added to ENS providers .. Admin>Setup>School Settings
External Providers:
Parent Paperwork (www.edsmart.com) is a new provider Edge can integrate with for those schools who are signed up with them. This can be enabled via Admin>Setup>School Settings
Setup:
Schools can now set closed dates that are in the past, for the current year.
Attendance
Student Attendance Summary
A fix has been made in Student Attendance Summary for Attendance History Export to CSV where the export was getting stuck with any Student Notes with more than 500 characters, even though you can make Student Notes with up to 1000 characters.
Achievement
NCEA
The NCEA Student Summary page now shows the Level 2 literacy credits broken down into Unit/Achievement standards credits in both English and Māori for Reading, Writing and Reading/Writing (standards that can be counted towards either Reading or Writing).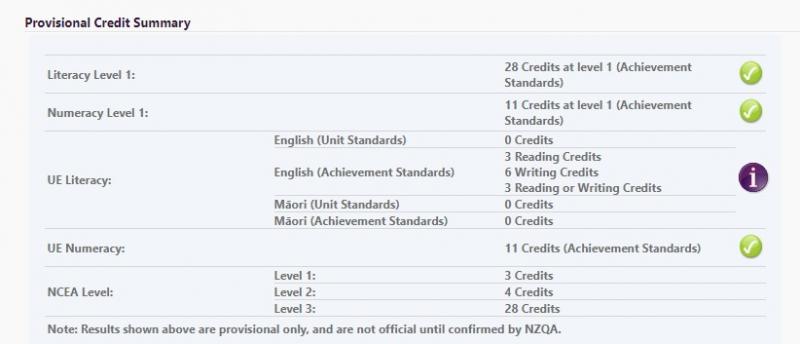 A similar change has been made for clarity on the NCEA Progress table and the NZQA custom report if used.
Reports
Attitude to Learning:
ATL Report Configuration page: Report 'StartDate', 'EndDate' and 'Reported By' fields are now only locked if a user has data entered for that year's ATL reports.
When first saving, a user is warned that saving ATL report data will prevent the user from changing report start date, end date and 'reported by' fields.
Fixed bug where ATL report publishing would fail if the total number of reports was more than 2000.
Dashboard
ENROL:
Updated ENROL Widget to show consistent information on the Dashboard.
Updated ENROL pre-validation rules and ENROL upload rules. ENROL pre-validation now includes verification document, expiry date and serial number checks and will display any errors relating to these validation rules.
Added warning messages in Student Details page next to 'verification document' field and 'verification document serial number' field to warn users that ENROL errors will occur if these fields are left blank.
People
Memberships
Remove Student from class button now always shows.
Changed rules regarding removing memberships or changing membership start/end dates:


User cannot remove a membership if there is attendance associated with the date range of their membership.
User cannot change Start Date or End Date of a membership if it will result in a loss of attendance.
User is not allowed to have overlapping dates if they have multiple membership instances for the same group/class.
Mobile
Pastoral
 Change to the ordering of Pastoral Field Values on Mobile App – now sorts Alphabetically