Bulk Student Photos
Details of image types and requirement to upload student photos in a .zip file, and named using the edge student ID can be uploaded in bulk.
Uploading student photos in bulk
From the People > Students > Enrolment Summary - Bulk Student Photos, the Bulk Student Photos tab includes a link to filtered lists functionality "Create New List" to automatically create a student list required for the photographer. The student (serial) number is unique and therefore must be the file name of the individual student photos, against which to match the photo with the correct student.   

Image types supported include gif, jpg and png, and all of the photos must be contained within a zip file to upload (max 95mb).

Please note, the files must not be located within a sub folder within the zip file. Edge will not be able to find them if this is the case. The photo files need to be in the root directory of the zip file. (Image files zipped up on a Mac will put them in subfolders that edge will not be able to access. Please zip up the images files on a Windows computer or download a zip from a google drive).

The photos are automatically resized to fit 280 W x 330 H, with retained dimensions. Thumbnails are automatically created and resized to fit 50 x 50, with retained dimensions. 

It is important to note that new photos will overwrite old photos. Photos are uploaded inside a zip file and put in the queue for processing, after which a PDF file is available showing the photos with matched students. In the report * includes the photos where a match was not made, and this should not be more than a few. For individual students, photos can be uploaded from the student's People > Students > Student Details - Edit Student page. In the student's summary details (in the purple block) is an "Upload New Photo" link.  The file name photo identifier referred to below must be used whether uploading individually, or in bulk.

In edge, a Student (Serial) Number is automatically created for each user. The Student lists > filterable lists export can give your edge Student Number ID (along with other basic student details).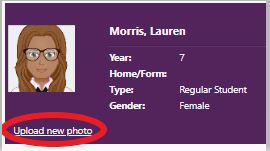 7. Once the photographer has provided the photo files, upload these (in a zip file - max 95mb) by browsing for the file using the 'Select' field on this page.
8. Click 'Upload'.
Looking for more answers? email support with your question.