July
July Release Notes
30th July 2018
Achievement
Analysis
Made Assay iframe size full screen
People
Define Groups
Allow group to be flagged as an ESOL or Special Needs group. All students in the group will get either a blue globe icon if ESOL, or multicoloured hand icon if special needs, next to their name on myclass list and on purple student banner.
Admin View
Admin Users can go straight to Markbooks without first needing to go to Achievement page
Teacher View
Medical List and Print moved to the left hand side of the MyClass Page
23rd July
People
Students
Processing a leaver now end dates all current class and group memberships for a student and removes all future class and group memberships.
New icons show next to the student name on the purple banner and on my class list. A birthday cake if it is the students birthday today, other icons will be available shortly.
Finance
Processing
New feature in Bulk Discounts/Reversals so that when a user selects the billable item to display, it displays the affected students immediately without needing the extra click of the display button.
Admin
There is now a new note type for Learning Support notes
Achievement 
Markbooks
The X (full screen) option button in Achievement/Markbooks is now a button labelled "Full Screen"
Markbooks has only one column of setup making more space for data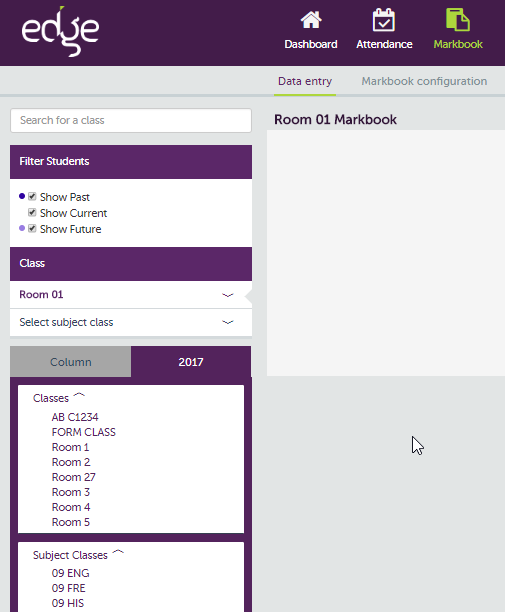 Teacher Mode
A new My Classes widget which shows today's class by period and then shows other classes is available for teachers
Click on the below picture to view a video outlining the changes made to Teacher Mode.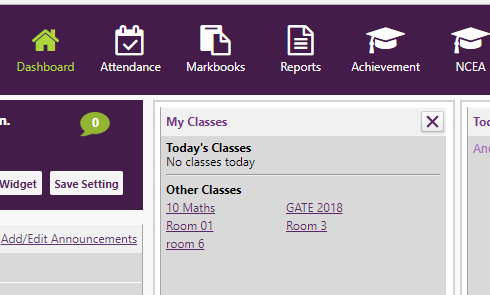 A new feature whereby in Teacher Only mode, once a class has been selected, all other screens in teacher only mode stay with that class in focus until the user changes the class
Added Markbooks as a directly accessible link from the Teacher only mode
On the My Class page in teacher only mode, the order of data has been rearranged to have medical info and notes immediately after the students name.

The order of icons on the Teacher Only site has been changed to have most used to least used going left to right

Clicking on the notes in the my class page will now show a list of notes
Admin Users can go straight to Markbooks without first needing to go to Achievement page