Report Summary
The Report Summary page enables staff members with Assessment Co-ordinator, Report Master or Group Leader user responsibilities to see the completion of results for student subject classes; and to be able to export out results to a CSV file.
Monitoring Attitude to Learning data and export
Report Summary
Select the reporting Year Level, and Reporting End Cycle for which you want to export data.
The year level's subject classes will display showing the number of reports which are 'Complete'. A link for entering a result takes you to the Data Entry page for that class where the results can be edited if required. 
Clicking the link "Export ATL data for this cycle" exports the results to a CSV file for the selected criteria of year level and reporting end cycle period. The subject classes with results previously entered are displayed, with numbers completed status, eg. 23/24 and a link to 'Enter Results' to add further results.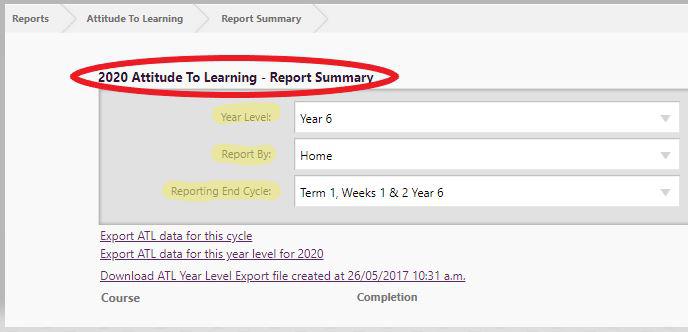 Looking for more answers? email support with your question.