ENROL Data Issues
ENROL returns a list of students whose data presents issues (or a 'mismatch') having clicked 'Check NSN' on the Student's Edit Student details tab.These are displayed on the People > Students > ENROL Issues and ENROL Issues tab.
​​How can I edit data for students where there are issues matching with ENROL data?
Where you have been assigned Enrolment Officer user responsibility, a fixed Dashboard widget headed 'Information Back from ENROL' displays on your Dashboard for any issues as part of the enrolment process separated within the groupings of:
Get Check NSN
Arrivers
Leavers                                                                                                                                                                                                                                                                                                          
These buttons from the Dashboard take you to the appropriate page for editing data requirements, or desired enrolment status of the student also.
The ENROL Issues page displays all students who either still require data before they appear on the applicable batch upload page, or, as a result of being included in a Get Check, Arrival or Leaver upload, there are differences between the data held in ENROL and edge. Check our videos explaining the ENROL process, together with full details explained in our ENROL knowledge base article.
If you see the following error regarding 120 days, then you need to "Save/Include in batch" then remove the student from the Arriver Upload Batch clicking on the X on the Arrival Upload Batch page.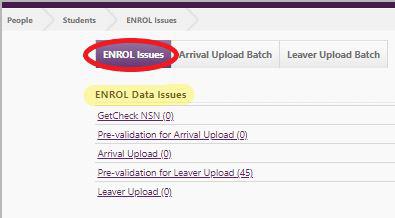 edge is integrated with the ENROL server to manage the enrolment status of students required by the MoE, for ENROL to be updated when students attend (or leave) your school. Where a student has not previously been registered and has no National Student Number ("NSN"), your school needs to register them by visiting the ENROL  website, or contacting the MoE Contact Centre, Ph 0800 422 599, or emailing moe.contactcentre@minedu.govt.nz.
Students who have already been registered can have their NSN verified, and their enrolment status updated with ENROL by using the Arriver and Leaver process in edge Enrolments. When a student's details have been entered into edge and saved, edge will verify whether all of the data required for the student is complete. If there are any issues they will be highlighted on the individual's Edit Student page. At the same time the NSN status for the student is set to 'Unverified'.
Looking for more answers? email support with your question.