Release Notes
The latest edge release notes detail changes made during the 2014 year, with the most recent updates displayed first.
17 December 2014
Achievement beta
Probe 2:
Data entry and analysis are now available
Attendance
New school attendance code G (holiday during term time) is now available for 2015
Enrolment
When entering caregiver details, you can now select a new relationship "Homestay"
Finance
Paystation is now available on request from schools to allow caregivers to pay directly online with VISA or Mastercard credit card and debit cards. Schools wanting to use this functionality must contact our Support team before visibility of functionality from the Finance > Configuration > Settings page is made available

Integration with Xero is now available on request (from the Finance > Configuration > Settings page)
10 December
Finance
"Group"  has been added to the Finance > Processing > Invoicing page dropdown for generating invoices

"Group" has been added to the Finance > Processing > Request for Payment page dropdown for generating requests for payment
Setup
Teacher-only, event, or public holidays, can now be configured retrospectively from the Setup > Calendar Setup > Define School Calendar page  

Note that attendance data entered for this date will need to be removed as notified when a previous date is entered, using the  Attendance > Attendance Records > Data Issues page, or Mark Attendance > Whole School and removing attendance codes  
5 December
Curriculum
A new reason for exclusion has been added to the NAG2A table indicating why valid OTJs for the period outside of the assessment date period have been excluded

(Where you see this "OTJ date formed outside of valid date range" reason, change the Date Formed on the student's OTJ to within the reporting period)

On the Export Report page the order has been changed so that the .csv file for this year's export file for the Ministry appears at the top. (The Ministry does not require the PDF, this is for internal school use only)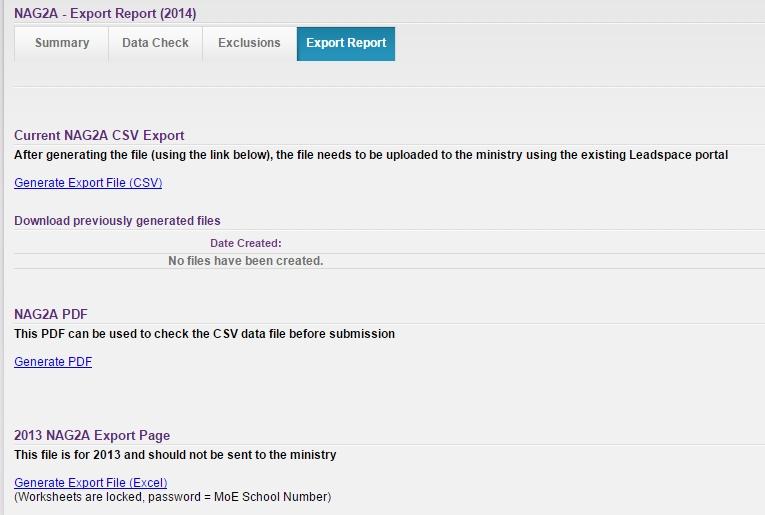 3 December
Curriculum
When importing NZCER assessment data, an additional mandatory field has been added below "Locate File" for selecting the date assessed on the ImportExport/NZCER page

NAG2A can now be exported to a .csv file as written to Ministry specifications - note the PDF report is prepared for internal school information only
Enrolment
A new field has been added for students years 9 and above, to student enrolment details for recording participation in STAR Funded courses. This and other current work is part of the changes required for MoE returns in 2015
26 November
Achievement beta
In Cohort tracking the bar graph now displays:

each assessment point separately for easy comparison;
hover-over each column names the assessment point (date), and
colour key showing the ethnicities represented in the graph

Ethnicities filter is now displaying 1st and 2nd level ethnicities correctly
Writing assessment:
Data entry and analysis pages are now available
Finance
On the Batch Processing page the "Print Summary" button has been renamed "Bank Summary" 

"Print Batch # Ledger total" report now displays sub-totals for ledgers, rather than individual transactions for confirming data imported into Financial Manager

The Student Transaction page can now be printed using your browser File menu > Print - and the text no longer displays grey

In the Debtors List individual billable items can now be selected and displayed (and printed)

The Debtors List now includes student Leavers
Setup
Assessment Coordinator user responsibility now includes access to the new Teaching interface Achievement (beta) via Curriculum > Assessment > Achievement (beta) menu item
21 November
Session timeouts have been increased from 20 minutes to 60 minutes to assist teachers when entering comments, and referring to assessment data on a separate page
Curriculum
Teachers can now enter OTJs for January/February 2015 anniversary

NAG2A:

When entering an Exclusion reason manually, this now saves correctly
The Exclusion list now displays students who left before 1 November, with a reason to this effect
The NAG2A Summary page timeout has been corrected
19 November
Curriculum
National Standards data entry for anniversary OTJs recorded as January and February the following year are now included in the view for the previous year. This will assist with completion of all the OTJ data required for the NAG2A reporting - refer edge answers for more.

PROBE2 data can now be exported from Student, Class, Year and School Analysis
Finance
Finance Settings have been moved from School Settings to Finance > Configuration > Finance Settings
Setup
MLM Borrower Updated integration for MLM Library Manager v14.4.10
Fixes
NAG2A Exclusion list has been refined to include only those students for the correct time period

Known issue: Reason for Exclusion: when entering a reason manually, the data is not saving

Fixed 21 November

Weekly attendance emails are no longer sent to staff who have left the school

The calendar, classes and timetable details now consistently save for 2015

In the Teacher only view, schools using separate school year caregiver reports within the one class now correctly filters to the correct students for each report

Caregiver Reporting now correctly includes leavers when they are still a member of class at the report's target date
14 November
Achievement beta
Configuration of assessment points now inherits the dates for all year groups
PAT:
data entry page Assign tests now available
e-asTTle:
sortable table for class
12 November

Achievement beta
You may have seen that our achievement (beta) was released on Tuesday 11 November. Watch our overview video, and for regular updates as we add assessments to this area.
NEW assessment point configuration for analysis - Group Leader
PAT:
data entry - for Teacher/Group Leader edge user responsibilities

data analysis for class - Teacher/Group Leader

group, year and school analysis - Group Leader
Curriculum
Caregiver Reports
The former data entry page is now available from the new streamlined page to enable viewing student results and notes for report data entry. Access this from the Teacher portal Reports tab > select report > select comment to edit > single page data entry page, see new "View old data entry" button

In report design, each layout type now displays only the available configurable items specific to that report. See report samples

For the A4 Progress report, you can now configure the number of comments before the Key Competencies section 

Detailed Key Competencies and Flexible Comments; and Subject report layouts now accept comment entry of up to 500 characters, regardless of the number of comments configured
Courses
The graph legend wording on the Student Options Summary page now reflects that in the Timetable Student Editor
5 November
Attendance
Speed of generating the Emergency Report has been increased
Curriculum
Caregiver Reports
To streamline data entry saving time on caregiver reports, all the curriculum tabs are now displaying on the data entry page for teachers and your school's edge Report Master. This is available in all report layouts. To view assessment results see more

The Key Competency heading no longer displays unless this is configured in designing the report
NCEA
The NZQA export warning message now includes advice of "no course" where a standard has not been connected to a course, eg. 12345.1  (no course)
Timetable
On the Create/Edit Timetable page we now have a new tab on Step 9 - Student and Classes. Following on from Step 6 where the Timetabler can view and edit classes for students before committing to populating classes, the new page allows you to enter a date range for the classes to be available, and a further check of clashes before confirming the completed class details; students and teachers are now in their appropriate classes.
29 October
Curriculum
Caregiver Reports
The Single Page Report has been modified to now print to 1 page, with Curriculum Area comments now restricted to 7 lines and the General Comments to 4 lines.

Known issue: if using Firefox, this has not been restricted to 7 and 4 lines, so where data entry is over this limit, the report may go to 2 pages

The Single Page Report no longer pads out to two pages for double-sided printing.

Tahoma and Segoe fonts are no longer available in Caregiver Reporting styles.  If these fonts have been used they will be replaced, displaying Arial.
For examples of layout format showing the variety available in edge, see our Reports knowledge base article.
Timetable
In Step 2 of the Create/Edit Timetable page, if the number of options for each/any year level has not been configured, this will link to Student Options Configuration to enable option maximum numbers to be set.
22 October
Enrolments
When processing a leaver, Enrolment Officers will be prompted to remove any attendance data entered after the leaving date
Curriculum
Report formats A4 Progress, Key Competency and Single Page, now have the option for Attendance Summary date of "Year to Date" or "This Term" for displaying on the reports

Class Lists now display only the current teacher as at the nominated date
15 October
Curriculum
Caregiver Reports
For the Progress A4 Booklet Report, the key competency descriptor fields are now only able to be edited by the Report Master for all students on the Curriculum > Caregiver Reports > Report Design page

The Progress A4 Booklet Report now includes the "possible" total for the target attendance date. The other report types and configuration of the target date will be in a future release
Courses and Classes
There is now a maximum character setting for new courses and new class names to enhance timetabling. New courses can be up to 7 characters (or when editing and saving existing courses); and the class names maximum (for new or edited names) is 13 characters
Timetable
For usability in creating a timetable, messaging and information has been improved on the timetable pages in edge
Enrolment
In Student Details an additional relationship "International Liaison" has been added to the dropdown for caregiver details when adding or editing a caregiver
8 October
Attendance
The Attendance > Attendance Records > Data Issues page now displays pagination where a student has more than 20 records of attendance data issues

Duplicate entries have been removed
Curriculum
Classes
On the Curriculum > Define Class and Groups pages you can remove a teacher from a class or group
Caregiver Reports
Māori macrons (āēīōūĀĒĪŌŪ) can now be used in all caregiver configuration and data entry report fields, provided keyboard setup in our Māori macrons settings article have been completed: 

Report headings
School name for report
Report introduction
All curriculum area headings
All key competencies headings
All general headings

In the A4 Progress Report format, you can now select to view either Curriculum Level, or OTJ Progression

Additional comments are now configurable in the A4 Progress Report
Timetable
Our continued focus on enhancements to the timetabling process this week rearrange the "Steps" in the Create/Edit timetable page. 1- Basic now combines Bands and Cycle Periods tabs, 2-Edit Student/Teacher/Courses, 3-Period times, 4-Option lines, 5-Connect Option Lines, 6-Student Allocation, 7-View Timetable Clashes, 8-Modify Timetable, 9-Activate

New Student Allocation step in Create/edit timetable page. Please note this is view only at this stage

In 'Step 2 Edit Student/Teachers/Courses' page, the Course tab now allows for class creation with teacher(s) (only).  Please note: no students are allocated to classes at this stage
1 October
Attendance
Attendance Records has a new page to allow for edge Attendance Officers to resolve any attendance data issues which may be caused by changing a student's enrolment, class membership and/or timetable 
Curriculum
The colour key used in the Edit Student/Teacher Courses (step 2) of the Create/Edit Timetable page has been adjusted to assist users with colour-blindness

The NZQA list of Providers has been updated to the current NZQA list
24 September
Attendance
The Weekly Attendance Report now generates by class and not by teacher, for example if there are 2 teachers assigned to the one class, the report now only generates one class list. This report also now correctly reflects the values for 'possible count' for part weeks

When 2 edge Attendance Officers are accessing Mark Attendance by Whole School, we've now corrected saving only those students with attendance code changes

On the Unexplained Absences Report the edge Attendance Officer can enter either  'Administrator update'  or  'correction of error'  values when a Reason for Change is required
Curriculum
Caregiver reports 
There is a new report format 'Progress A4 Booklet Report' designed to work as an A4 booklet with a Progress against curriculum levels.

The expected curriculum level for each student year level is configurable. There are 3 points (beginning, middle, end) within the year for the teacher judgment to be set. For each point on the graph, a teacher can enter a progress point - we have created 6 placements per curriculum level to show students' progress within the year for parents/caregivers. These values are for caregiver reporting purposes only and are not part of formal curriculum assessment.

This is the first step of the report design, next we'll be working on providing a graph for OTJ progress, configuration of how many times a year judgments will be entered; and a value for student 'effort' for reading, writing and maths.

We have available for Windows 7, Māori macrons for use initially in the caregiver reports comment boxes only. For setup, see more
Timetable
Edit Student/Teacher (step 2 Create/Edit of the wizard) has now been extended to view the course details. This Summary tab displays the data by course:

how many students have selected the course

students' approved status of their course selection

number of teachers assigned to the course

maximum size (setting) of the intended classes
17 September
Attendance
The Unexplained Absences Report now derives its Caregiver lists in the order of: (1) Living With, (2) Legal Guardians and (3) Emergency Contacts; in alphabetical order by surname within each category (if there is more than one)
Curriculum
Where more than one teacher is assigned to a class, in order to nominate the teachers to be displayed on the front or header of Caregiver Reports, we've added to the Define Classes page Teachers Section a new 'Reporting Teacher' checkbox – displaying to a maximum of 2. For a single teacher assigned to a class, the Reporting teacher field does not display as they are assumed the Reporting Teacher by default
Timetable
The new step (Step 2) in Create/Edit Timetable now allows the editing of student course selection, and teachers course selection

From the Timetable Pre-requisites page the 'Students Assigned Courses' and 'Courses Confirmed' hyperlinks now correctly link to the Courses > Student Options Summary page
Finance
On the Maintain Ledger Numbers page, Financial Officers are now able to edit their ledger numbers (in addition to editing the description).  Once edited, it's important to note this will update the ledger number throughout the product (eg. Student Transaction Report exports and transactions already processed as well as billable items, ledger and batch reports)
Pastoral
Graph information now displays in alphabetical order (eg. Student's Last Name)

When hovering over a student in Analysis, the correct information is now displayed without delay
10 September
Curriculum
Once a student has been made a leaver, changing standards in the Edit Standards page will no longer add additional standards

Courses which have been end-dated earlier in the year will now display in the Define Courses page to allow further editing

In NCEA > Billing, if a payment for NZQA fees has been entered in error, it can now be removed through an "Undo Payment" button. This will also remove any financial assistance changes made by the payment

We have added a new step into the Create/Edit timetable process. Step 2 - Edit Student Courses shows the courses a student has selected. This is the first step in a revamped timetable process, and will allow the person with Timetabler user responsibility to easily view student courses for future timetables
Finance
When sending a request for payment and/or invoice via email, a report showing the email addresses is available (after sending and processed from the queue), date, time and room is now available from the link at the bottom of the page
Pastoral
We have simplified the configuration of pastoral so that only the configurable fields appear for editing. The fields pre-defined by the Ministry no longer appear on the configuration page
3 September
Login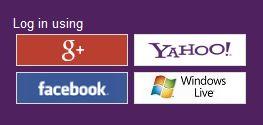 Google OpenID authentication has now been updated to Google+. Please note this will not affect your current Google login.
Curriculum
Data Entry for Date Assessed on OTJs has now been confined to the student's last date of attendance

Single data entry now displays the student's dates for leaving or moving class

IKAN now displays the latest sub test on the Assessment Landing page, eg. NSO – Stage 5 EA = Number Sequence and Order sub test is at Stage 5 EA

NZQA Results files prior to 2012 (.txt) can now be imported
Enrolments
In Student Lists we've added the ability to print out School Size Summary by:  Room and by School Level

For the School-links export also in Student Lists, the field separator has been changed from  ;  to  ,  to match the specification for School-links
Finance
Amounts in the Request for Payment and the Student Transaction Summary have been corrected to resolve any double payments

We've added an email log displaying status of successfully sent and failure for financial emails to caregivers
Pastoral
The Pastoral Analysis graph now includes the new Supports functionality

Pastoral Analysis now allows graph type by incident for Positive, Supports and Problem behaviours:
For Positive Behaviour select graph by:  type, student and monthly

For Problem Behaviour select graphs by:  type, time of day, location, student and monthly

For Supports you can select graphs by:  type, time of day, student; and monthly

Hover over Tooltip icon for information on zooming and selection for the graph

 
27 August
Curriculum
On the Courses > Student Options Summary page, clicking segments on the year level pie graph now lists students below from the selection
Pastoral
The search filter in pastoral now includes a Leavers tickbox providing the ability to search and view leaver records

Teachers can now enter records for Supports
Setup
The calendar can now be set up through until 2017
20 August
Curriculum
Assessment

"Other" tab has been renamed to "Science"

School Entry Assessment (SEA) now displays under the English tab
NCEA
Print student summary to PDF for the current year has been added to the NCEA student summary page

From NCEA > View Results > Student Summaries tab you can filter in bulk for the following: School year level, Form/Class, House, and Group
Timetable Prerequisites
Ability to print from the new link, a PDF viewing teachers' intended teaching load for the year from Curriculum > Timetable
Course lists
Ability to print provisional numbers for student options in PDF format, showing intended course numbers for the selected year from Curriculum > Courses > Course Lists
Finance
On the Assign Billable Items page "Pending" items now all display on the first page, rather than by date

Pagination has been added to the Assign Billable Items page
Pastoral
"Support Type and Support Actions" are now available for configuration in Pastoral for the Pastoral Officer, and from the "Supports" tab when adding a record. Ability for teachers to add Supports will be coming soon.
13 August
Attendance
Emergency Absences Report is now displaying students with codes M and J

MoE Attendance Survey optimisation allows report generation for a whole term
Curriculum
Running Records - Weeks at school is now using estimated time at school, rather than estimated time at this school
Finance
Receipt number for payments now displays on the Student Transaction Report

Student Transaction Report can now be exported to a CSV file
7 August
Attendance
Attendance marks are able to be saved through Unexplained absences

The unexplained absences report now generates without an error
6 August
Attendance
Emergency Absences Report (was 'Daily Absences Report') can now be sorted by class or entire school, and is now located under the Attendance Records > Reporting tab

As part of our ongoing drive to improve our service, we have been working on the maintenance of the attendance data structures. These changes are primarily focussed on improving the underlying structure to enable future features. These changes should have no impact on existing functionality, but if you do experience any issues we would really appreciate it if you could let us know
Curriculum
We've updated the IKAN assessment removing the obsolete Overall Score field

Work has been done on the 'House' functionality to add students to houses in the same way as creating classes. Students in a House do not end (date) each year - instead they will remain in a House for as long as is required at your school.

Please note, a class can now not be associated with a House
Enrolments
The bulk photo report now displays the students' photos and paginates correctly
30 July
Enrolments
Filtering for groups is now available in Pastoral Analysis and Filterable Lists

The Student Number (SMS ID) has been reinstated in Filterable Lists

Filtering by the field 'House' is now working correctly in Filterable Lists

Enrolment Notes now correctly save when using Internet Explorer
Curriculum
We have corrected the total score calculation for the SSpA Test 1 so that it no longer includes the 'Recognising Errors in Words' subtest score

Changes to class memberships for Option classes with attached standards made in Define Class no longer re-attach a standard removed from an individual student
Finance
Billable Items can now be assigned by Group

POLi payments in the Caregiver Portal can now be made as one payment for all siblings attending the same school
23 July
Enrolment
The range of fields available for export in Filterable Lists has been added to, including date of leaving, school of destination, date started school, zoning status, start date here, iwi, early childhood education, previous school, ORS and section 9, Māori language learning index, exchange scheme, boarding status, privacy indicator, English language learner and secondary tertiary programme fields 

In Filterable Lists if you have selected to display the student email address and it is wider than the column, the text will be wrapped in the PDF Export
Curriculum
With Assessment Coordinator user responsibility, you can create Learning, Cultural and Sports Groups, with 5 pre-defined Learning Groups (At Risk Students, English Language Learners, Gifted and Talented, Reading Recovery and Special Needs); and assign teachers and students to these groups

Students who have the English Language Learner checkbox ticked in Edit Student Details are automatically included in the English Language Learners group

Assessment Analysis on Learning Groups is available where you have Assessment Coordinator user responsibility

We've updated the analysis of Probe 2 (full results) so that if a fiction test is done separately from a non-fiction test, then the information is displayed correctly
Known Issue
Please note that due to changes with the English Language Learners, in the National Standards Progress and Achievement table, clicking on the number of ELL students will not display names at this time
Finance
The Student Transaction Report now includes transaction date and time
Setup
We have updated the Timetabler description on the Configure User Responsibilities page to provide clarity
16 July
Enrolment
When processing a leaver as Reason for Leaving "Eligibility Expired", the Post-School Activity field populates as this is a mandatory field

Please note: Eligibility Expired is not a valid reason for New Zealand or Australian citizens
Curriculum
Achievement
Probe 2 now allows self-correction and accuracy as two separate results, and displays the percentage of accuracy.  The results entered previously will display in the percentage field

e-asTTle now imports into the term by Date Sat – not Date Modified, please ensure that your Date Sat is during term time

OTJ Data entry: Date Formed is now editable where a previous result has been entered
NCEA
The Curriculum > NCEA > View Results page now displays the students' progress results in pink (provisional results in green).  If a student has both a progress and a provisional result, only the provisional result displays.  In Teacher Only view, this is now displaying on the NCEA Summary page
9 July
Enrolment
The Cook Island Māori ethnicity has been updated to 'Cook Islands Māori'
Curriculum
e-asTTle Analysis now available for Year Levels 1-3

e-asTTle now imports matching the student's NSN and Student local ID. This improves the previous matching on the student's name, causing errors where they have a different preferred name to legal name

NZQA Provider list has been updated to include  BCITO and Evolution School of Beauty

STAR date entry is now available again
Attendance
Daily Absences Report is now found under Attendance > Reporting > Daily/Weekly/YTD tab rather then Enrolments > Students > Student Lists
Finance
Request for Payment and Invoices reference now displays the student's NSN number replacing the student's local ID. With the Financial Officer user responsibility you can now search for a student's NSN number as an alternative to the student's name
2 July
Pastoral
Full pastoral data entry is now available for all user responsibilities from the 'add pastoral' button on the footer. This means teachers without full pastoral responsibility for your school no longer need the full 'Pastoral officer' functionality to be able to complete a full pastoral incident in edge
Enrolment
When adding a caregiver, we've changed the search of existing caregivers which in addition to surname, now matches on email, cell phone, or home phone numbers

The family diagram now displays students who are currently attending your school
Ministry Returns
Area schools will now have student funding year level for years 7 and 8 reset to align with the schooling year
Achievement
Running Records data entry now displays the level, equivalent age and range details in addition to the existing colour selection

National Standards Progress graph is now displaying the correct OTJ results

GloSS assessment now has a result value of 2-4 replacing the value of 4

NZQA financial assistance income type is now optional to include a Community Services Card
Curriculum
In Caregiver subject reports, the 'Completed' tick now also determines whether or not a subject is displayed in the report as well as indicating that the Comment has been completed  
Finance
The student selected is retained when moving between a student's financial transaction page to payment received page
27 June
Ministry returns
For students who have left, edge is now correctly validating rather than the error message 668 - Record missing NSN

There is now additional validation of MoE errors when saving changes made via Bulk Field Update, and Edit Caregiver Flags functionality. Any errors occurring from data changed via these pages will be displayed on the 'Check Data and Create.moe file' page
25 June
A teacher with the additional responsibilities of any of the following: Group Leader, Subject Leader and Communications, will now have the teacher view. Check updated Configure User Responsibilities article 
Finance
Request for payment, invoice and receipts pages have been reformatted, and functionality added to allow the reversal of payments

Outstanding balances are now showing on Request for Payments when generated for the whole school, or family selections
Enrolment
When adding a new student the student defaults to a 'blank' value for Māori Language Learning Index. The Ministry Returns Specification requires all values of blank for Māori Language Learning Index to convert to 'Not involved in Māori Language Learning'
Attendance
Print class rolls has now increased to print 4 students across to maximise the width of the page (instead of 3 students across a page)
Achievement
The NCEA Student Summary now displays the graph of progress as a summary on this page (above the list of NCEA standards assigned to a student). Withdrawing a student from NZQA now correctly withdraws all versions of each standard
11 June
Achievement
The NCEA Progress table can now be exported to Excel

The export to NZQA warning messages now state which class a standard is associated with if a student is taking the same standard for more than one class

Year and School analysis is now available for assessment data imported via the Provisioning process

Attitude to Learning Reports now use the Course 'Reporting Name', if available, rather than the Class details. If there is no reporting name associated with a course, then the Course Name displays
Attendance
Improvements have been made to the creation and saving of ENS groups
Enrolment
We've added options to create an Ultranet export from the Enrolment > Student Lists page
Finance
The school's GST number is now printing on the Request for Payment
4 June
Curriculum
We recommend that you select the e-asTTle SMS download file as edge has been updated to accept this, instead of the tabular file option
Known Issue
The student NCEA progress graph 'withdrawn' count is including both versions, eg. where versions 1 and 2 of the same standard have been withdrawn, the count is incorrectly doubled
28 May
If using Internet Explorer as your browser,  please use version IE9 or later as we no longer support IE8
The Year to Date Attendance Report can now display data which is more than 6 months old

The 'Location' field has been removed from the 'Course' details page, being available at class level

Years 14 and 15 are now available for selecting a student's school year level. On saving, the Funding Year level will automatically be updated to match the students' school year level
21 May
Curriculum
We now have the flexibility to enter different versions of NZCER assessments for  students in the same class, e.g. PAT Listening Comprehension,  a  Year 6 class will mostly sit Test 4 and for some students they can now sit Test 5

e-asTTle now correctly imports data into the correct term period not by calendar quarter, this issue became evident with term 1 being longer than 10 weeks. The download into edge also accepts the 11 possible 'Name of Attitude Domain' choices provided by e-asTTle e.g. Motivation – general

Students preferred name details are now used for

Assessment comparative analysis and

the Newsletter Distribution List

Historical caregiver reports can now be re-printed by selecting (last year) and then the relevant class, and then student. Note you can only print reports that have been created previously

NCEA submission is now sending both a withdrawn version of a standard, and the new version of the same standard

You can now log in to the Caregiver Portal via Open ID using your Facebook, Windows Live, Google or Yahoo accounts

There is now an interactive NCEA Student progress graph for the current year on the NCEA Student Summary page (click on legend to remove/toggle items from view)

14 May
Enrolment
The medical list has been amended to include the students' doctor/health centre contact details entered

Ministry Returns criteria for selecting the student address has been modified to select 'living with' address
Achievement
e-asTTle download into edge has been modified to accept the 10 possible 'attitude domain' column titles as provided by the e-asTTle team last term

The Subject Reports details on the NZQA standard number and title are now printed in a larger font
30 April
Enrolment
Funding Year levels are now calculated correctly for students who should be Funding Year 14 or 15
Curriculum
The NZQA 2014 change to UE Literacy requiring 5 credits for reading and 5 credits for writing has been updated. UE Numeracy requires 10 credits at level 1or above

We have replaced the work 'mock' with 'progress' for NCEA assessment results

We have updated Writing Assessment to 'early' instead of 'towards' for each curriculum level. There are two possibilities for each curriculum level,  'early' and 'at'
16 April
Enrolment
The Enrolment Officer and Teachers can now add an Enrolment Note to students using Add Note. In the student details purple banner, staff with the appropriate responsibility will see a red bar on the right, for students who have an enrolment note
Attendance
Improvements have been made to the speed of generating the Daily Absences' Report
Curriculum
The Attitude to Learning Reports now correctly print for all students, including those with >20 entries

The NCEA Progress Report now includes internal NCEA assessment results (N, A, M ,E and withdrawn) for students in the current year
Finance
From Batch Processing > Student Transactions Report, the allocation of credit transactions now displays in the Batch Student Transactions Report
9 April
Curriculum
Achievement
PAT Punctuation and Grammar assessments can now be imported from NZCER into edge

e-asTTle upload now only includes Current Year Level 1 to 13 students
Caregiver Reporting
Configuration now has an option to print reports in booklet form, refer to edge Answers for the full details. It's important because we've made changes to configuration, to re-save the configuration page of your existing reports for 2014

Subject Reports now have the option to include Progress (formerly 'mock') results for both internal and external standards
Finance
Receipts now include the bill payer's name

Bulk printing of invoices is now printing correctly
Pastoral
Students' school year level is now included in the export
3 April
Curriculum
Changes to Caregiver Reporting
This report can now be generated for students who are not taking NCEA standards
Note: If your Subject Report has already been created, this feature can be included by updating the details in configuration.
We've added the ability to assess each subject in two areas (which you can configure) and add a comment: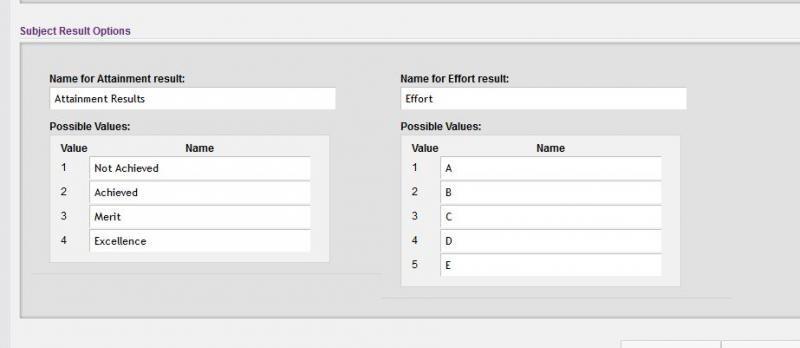 Caregiver Booklet Printing
We recommend 4 page booklet printing, however you can create booklets in multiples of 4 pages
Example:  If you create a 5 page report, it will be padded out to 8 pages
To fit all comments on the one page, we recommend choosing from the following fonts:
Arial, Georgia, Tahoma, Trebuchet, Times New Roman
Enrolment
Edit Caregiver Flags
edge has new functionality to edit caregivers' flags in a group, by Class or Year level under Enrolments > Caregivers > Edit Caregiver flags:

Achievement
The PAT Punctuation and Grammar assessment is now available to configure for data entry and analysis, for Years 4-10
Finance
Receipts can now be re-printed, from the Transaction Summary page
26 March
Curriculum
The NZQA standards have been updated to those received by NZQA on 26 March, and are now available for assigning to courses and students

Caregiver reporting now provides for an optional progress chart for National Standards

Additional to the selected Key Competency output, other possible values (eg. 'Sometimes  Usually  Consistently') are included on the report 

Space has been provided for signatures for both Teacher and Principal at the end of the reports

On the single page report the comment begins below the sub-heading (now emboldened); and the student personal detail attendance summary has been made more concise

We've removed the option to create a 4-page caregiver report - instead use the Flexi ('Detailed Key Competencies and Flexible Comments') layout type

Comparative Analysis for assessments has been corrected to generate the graph showing the percentage data only
19 March
Achievement
GloSS 2nd Ed. assessment is now available for school, year, class and student analysis. Please note that analysis is also available for the original GloSS assessment

Writing assessments summary and comments are now displayed on the OTJ data entry page

The basic 4 page layout is no longer available for Caregiver Reporting - instead use the Key Competencies template with variable comments report configuration
12 March
ENROL is now available for uploading Arrivers and Leavers. We've also permanently removed the message generated when deleting a student from the batch

The first confirmed attendance date is now displayed next to the 'first started here' field on the Edit Student Details page. The FSH value has been removed from the student's purple banner, while we assess alignment of various recorded starting dates together with ENROL details
Finance
The Debtors' List page now displays debt brought forward from previous years
Achievement
PROBE 2 data entry has been updated to display the appropriate fields based on the set selected. We're working on completing the analysis for PROBE 2 for the next deploy
5 March
The Early notification (ENS) page in attendance is now allowing attendance codes to be updated when a response is received from caregivers
Achievement
New GloSS assessment for configuring and entering data as outlined by NZCER in 2013. Analysis of the new GloSS results will follow in a future release. The original GloSS assessment has been retained

Functionality for configuring, entering and analysing new JAM assessment as outlined by NZCER. The original JAM assessment has been retained

Writing Assessment has been altered to include two values per level, 'towards' and 'at'. Data that has been entered in 2014 has been mapped to the following values:

Level 1i = towards level 1, Level 1ii = at level 1, 1iii = at level 1, all other levels are mapped to 'at' level n

NZQA National Results are now available and can be used to compare school results with national results. Your school's 2013 results file can be imported into edge for this comparison. Please refer to edge answers for instructions on this functionality

Attitude to Learning – report is now generated based on date set for Attitude to Learning, and not the beginning of the year
Timetable
The timetable functionality has been altered to vary the day cycle of the timetable mid-way through the cycle, e.g. start on day 6 of the timetable not day 1

If an Event Day has been cancelled today, then the normal timetable will resume if cancelled before the timetable starts for the day eg. before 9am
26 February
A list of students is now displayed on the Edit Course page for students currently in classes, and provisional students
Caregiver details:
When selecting caregiver details in Filterable lists, the 'living with' caregiver details are displayed, including their address

When adding a caregiver the link "not the caregiver you were looking for" now works correctly
Roll Returns:
Caregiver addresses can now contain a / symbol, eg. 3/122 Main Street

The funding year calculation has been fixed where the leaving date is set to a year in the future
19 February
Classes for the current year can now be deleted once the students have been removed from the class

The 'time at school' calculation has been corrected for students with a January birthday
Achievement
Data entry of assessments has been re-aligned to display year level and sub-tests correctly on the page

Writing Assessment graphs now correctly display on the student's Assessment Analysis Summary page

Configuration of e-asTTle assessments now includes the option to import Years 1 to 3 into edge

STAR (2012) assessments have been amended to allow all values to be entered for Paragraph Comp sub-test

Probe 2 results now correctly display on the OTJ data entry page
12 February
We've updated the download files from NZCER to include the ability to download Science Thinking with Evidence and STAR 2012 assessments

When printing student receipts, we've corrected the issue where the room details from last year were included

On the Unexplained Absences > Search date page the 'Prev' and 'Next' buttons now work as expected, and display the correct room details for students

Attendance reports are now able to be generated for last year, including Audit Term Attendance Register

The processing of final year to leavers functionality now correctly processes only those with a blank leaving date

When a Bus List is end-dated, it now correctly no longer appears in the dropdown for selection
5 February
We've added the ability to remove an OTJ data entry which was incorrectly entered on a student. Please note that the comment data will also require removing before the OTJ value can be deleted

Student search now correctly includes the students' room details

Attendance data can now be entered for the last week of last year

When entering payments, we've added the ability to enter a date of the previous year

Fee for international fee paying students now displays correctly on the edit student's page

Enrolment > Edit Student > Caregivers no longer duplicates the suburb details

The Funding year level is now being calculated correctly for students who have left school and are Years 1-8
23 January
Enrolment
To assist with Ministry returns, we've added a new Bulk Field Update page to enter data in MoE fields for more than one student at a time where the field is blank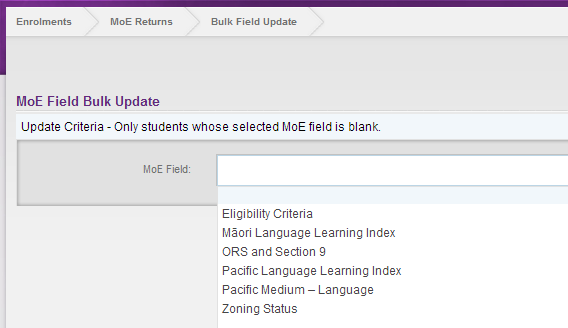 The MoE Audit List for area schools now correctly lists only those students in Year 9 and above for June and September roll return periods
Achievement
Two NumPA results can be entered per year (Interim and Final). Where a result has been entered and this needs to be edited (or another result entered), click 'Add mark' then click 'Edit Mark' to access the fields

Clarity about the OTJ being entered has been provided by displaying the OTJ period instead of the school year level

The OTJ result period displayed has been corrected for students advanced (or held back) two or more years

We've corrected figures for the exclusion list around leavers; and data check pages (including duplicated results) for NAG2A report calculations

OTJs entered in the previous year are now included on the OTJ summary page
Finance
The Debtors' List page now includes the amount of unallocated credit for each student, as well as totals for each billable item (for all students)

We made process changes for determining the family donation including only having one caregiver per student with the Bill Payer status flag, and offering a discount to families with 1 or more siblings. When creating a billable item you'll see a new 'Family Sized Item' checkbox to tick for extra fields 
Fixes
Student timetables are now printing 3 timetables per page

Student search details are now correctly displaying the student's room details
edge
We've welcomed more schools into  edge including secondary and area schools
Looking for more answers? email support with your question.