Finance
Financial transactions processing - requests for payment, receipts, reporting comes under the umbrella of Finance. POLi, and Xero are available, and our product specialists are able to assist with enabling functionality for your school to integrate with Paystation.
Finances covers setting up your billable items, from the maintenance of ledgers, billable items and design of requests for payment, to processing billable items and batches, subsequent reporting on transactions and financial lists.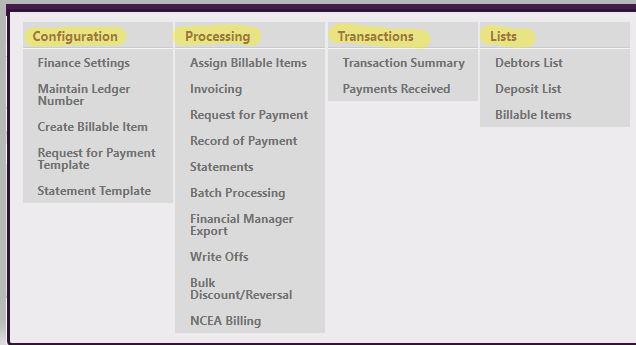 In the Admin > Setup > School Settings, the Site Access section can allow for caregiver online payments via the App or Parent Portal.
In addition the Finance > Configuration > Finance Settings page must be completed once details are available from the payment merchant Merco, to use POLi for enabling online payment for caregivers; and for acceptance by Paystation for Visa and MasterCard.
A tick box is available for configuring edge with Xero, who will provide a network key for entering into the field. When the Xero box is ticked, enter your network key; and this has the effect of removing functionality to enter ledger numbers, which now  sync automatically from Xero.
Looking for more answers? email support with your question.