Student Counts
The Summary page shows totals in year groups for current and pre-enrolled students.
Where can I see a break-down of total student numbers?
Summary student numbers are displayed in year groups for:
current students

pre-enrolled students

leavers this school year (ie. January to today)

leavers for the current MoE returns year, (ie. March last year to March this year)
The status flags shown are taken from data validation carried out for Ministry electronic roll returns. Red status indicates there are MoE errors, Yellow status indicates there are MoE warnings, but no errors; and Green status indicates there are no Errors or warnings.
For integrated schools only, to have Maximum Roll Number displayed on this page requires a maximum roll number added  in the School Settings. Go to Admin > Setup - School Settings - Integrated Schools and also in Admin > MoE Returns > Summary - School Enrolment Scheme - an 'Effective From:' date needs to be completed as per MoE instructions.  This count totals 'Currently Enrolled Students' only.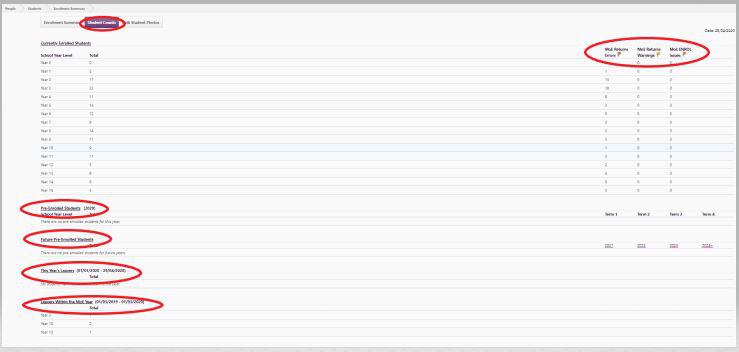 Looking for more answers? email support with your question.