Students
In People > Students we record 'people' aspects of students; from pre-enrolment through to processing leavers, and their connections to others. Filterable lists can be generated, and some files for export.
Student Details  (includes membership of groups)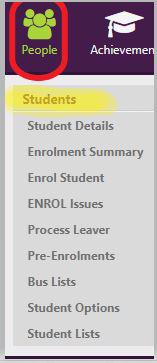 Enrolment Summary
Enrolment Summary

Student Counts

Bulk Student Photos
Enrol Student
ENROL Issues
Arrival Upload Batch
Leaver Upload Batch
Process Leaver
Individual Student

Final Year Students
Pre-Enrolments
Bus Lists
Student Options
Student Lists
Advanced Filterable lists

Filterable lists

Newsletter Distribution Report (by eldest student)

NZSSSC Census

School-links Export (in CSV format)

Worsfold Software Export

6 Year Net Results Table

Medical
-Medical List
-Immunisation Report
-Status by Funding Year Level
-Room by Funding Year Level
-Room by School Year Level
Looking for more answers? email support with your question.