August
August 2019 Release notes
06/08/19
People
Staff
Change on the View Staff page:
Added a Tickbox to include Past staff members in the drop down search result.

Admin
MOE Returns
Change to the Admin/MOE Returns/Summary page:
Added a fourth row to the 3 step process table.
This fourth row shows a Resubmit button and a message stating that something went wrong with the submission process after approval.
The row only appears if the files have been approved but not submitted for some reason.
Reports
Custom reporting
Change on the Custom Reporting Print page:
Changed Complete, Moderate, Publish buttons to Update in Class and Student based views.
13/08/19
Notes
Added new Uploaded Document Student Note type, this can be found in:
Add Note in the Purple Footer
People/Student Details/Notes
People/Memberships/View Classes and Groups
Pastoral/Student Records/Student Note
My Class (Teacher Mode)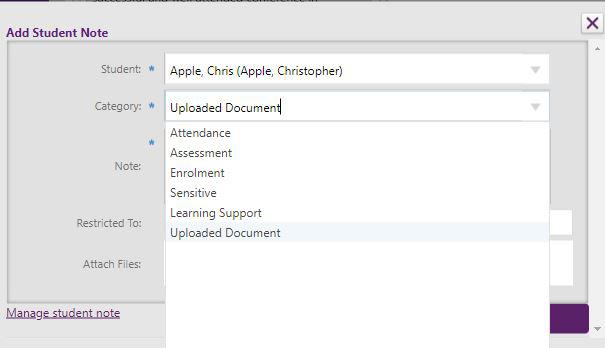 15/08/19
Admin
Setup
Improvement of Online Enrolments Approvals process (Pre-Enrolments page):
Now when approving an OLE application the attached documents will be added to the Student as an Uploaded Document Student Notes.
20/08/19
People
Staff
New Feature added to View/Edit Staff page:
Users can now add Immunisation Evidences with comments for Staff Members.

Users can now add First Aid Certificates with Provider Name, Expiry Date, and Supporting Evidence for Staff Members.

This information is available to view in the Export all Staff and Print all Staff Export options