STAR Funding
For the purpose of recording secondary school student participation in STAR funded courses (irrespective of the course length), from 2015 a field indicating whether or not the student has benefited from STAR funding is reported in the Ministry returns file.
In order to show which students take part in a STAR funded course and when,  from the 1 March 2015 roll returns, for students in year level 9 and above, information is reported in the .moe file (showing 'Y' or 'N'). We've added the required field to the student details page indicating whether or not the student has had STAR funding, or has been on a STAR course in the previous year up to the March return. The staff member with Enrolment Officer edge user responsibility needs to tick the box for each relevant student who participated in a STAR funded course any time during the year. 
March return
Students who participated in a STAR funded course during the previous school year
June, July, and September returns
Students who are participating in the current school year
The People > Students - Student Details > Edit Student page for year 9+ students displays a 'STAR Funding' tickbox in the Extra MoE Details section for individual student recording.

For bulk entry for students, navigate to Admin > MoE Returns > STAR Funding indicating STAR funded course participation.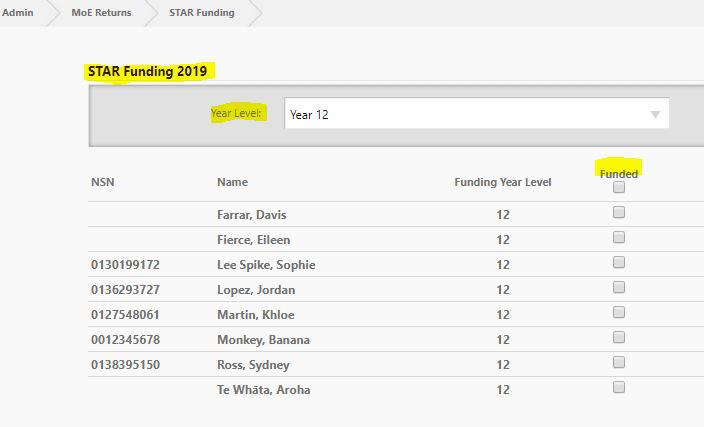 Note: On 1 April each year the STAR funding tick boxes are automatically reset to default blank. The Enrolment Officer will need to apply the ticks to those students for the current year participating in STAR funded courses.
Looking for more answers? email support with your question.