Caregiver
A Caregivers connection to the student/s including their user rights and relationships to siblings.
Where do I see caregiver details?
Caregiver details are available directly from People > Students > Student Details, Select Student then Caregivers tab.
This page displays a list of the Caregivers associated with the student and their relationship to the student (available from the dropdown which includes close family options as well as eg. "International Liaison". 
To edit any caregiver's details, click the  "+"  sign to expand the details to view, and click the 'Edit' button to access the caregiver details, including viewing and editing the status caregiver flags (see also People> Caregivers) . 
​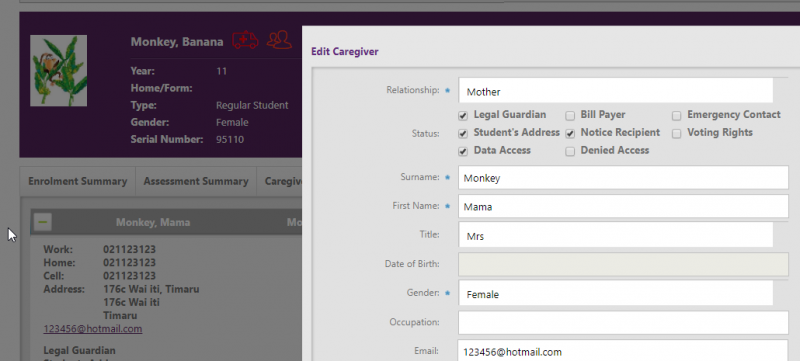 The diagram displays the members of the student's family, including siblings.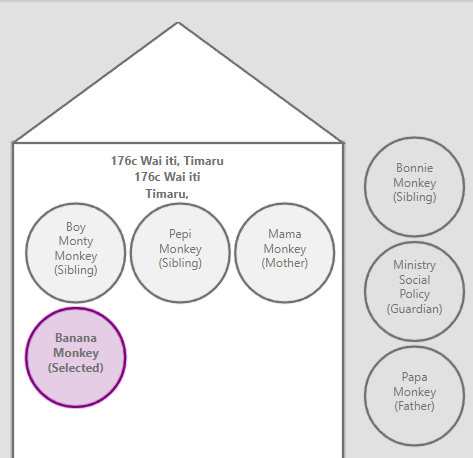 Note: a Caregiver will only be included in the 'box' where

they are a 'Legal Guardian' and
live at the same address as the student

For a caregiver who is a 'Legal Guardian', but lives at another address, his/her details will be displayed, but outside the 'box'.

Leavers do not display for current students. However, if you select a leaver, then their current siblings at the same school will be displayed.

 
Adding a new caregiver
For a new caregiver, from the Caregivers tab, click "Add a caregiver"   

  and add in the Surname, First Name and Gender fields (these are compulsory fields) Adding in an email address can also help to find a match of the caregiver to prevent creating a duplicate record. Check with the caregiver to see if they could be known by another name for example Mrs Jo Bloggs could also be Mrs Joanne Bloggs or Mrs Joanne Bloggs-Smith. If you get stuck and are unable to add in the caregivers email address as it is already in use by another user please email the support team at support@edgelearning.co.nz the caregivers first and surname, email address and the name of the student they are associated with and they will try to assist you with finding a match. 

 The Relationship dropdown for the caregiver includes Mother, Father, Stepmother, Stepfather, Aunt, Brother, Counsellor, Case Worker, Cousin, Extended Family, Family Friend, Foster Parent, Godparent, Grandfather, Grandmother, Guardian, Homestay etc. When entering an email address for a caregiver, student or staff member, if the email exists already in the edge system (therefore is a "duplicate"), you may receive a duplicate email address warning. This is important because email addresses are used as logins and therefore need to be unique to the individual. Read more
To avoid duplicating these details, initial search criteria in addition to the name searches existing records, with possible outcomes - Exact or Likely:
Exact = identical fields for:
Surname, First Name, Gender and Email or Mobile Phone, Work Phone or Home Phone
Likely = identical fields for:
Surname and First Names and Gender; AND any of: home or cell phone, email, physical postal code
Note:  edge can have only 1 exact match.  If an exact match is found, likely lists are ignored

 
Status flags

Tick into the relevant Status flags as appropriate for each Caregiver:
Legal Guardian   -   for Ministry purposes, can have more than one caregiver ticked, and student not necessarily residing with

Student's Address   -   a student must have at least one caregiver with this 'Student's Address' flag checked for the MoE file. There can be only one caregiver for this purpose (even though the student may be living with two (or more) caregivers; or a message will display advising there is already a caregiver attached to another student address. For shared custody of the student, use the address where the student mainly lives. The single Student's Address field data is also used for NZQA, and to determine the 'eldest' in the family for creation of the newsletter list . If this flag is not selected an MoE Error 625 & 626 will appear.

Data Access  -  allows Caregiver online access, including all information (eg. attendance, timetable, achievement reporting). This indicates that the caregiver can view their own childs data through the edge caregiver portal, once additional configuration to enable access has been completed in the Admin> Setup- School Settings - Site Access.

Bill Payer   -   receives Request for Payment. Multiple caregivers can be selected (where students have the same combination of billpayers they are in a billing family for Statements and Family based billable items). 

Notice Recipient   -   this flag determines whether or not the caregiver reports are made available to the caregiver in their portal.

Denied Access   -   no access allowed to student including school grounds; and no online Caregiver portal access.

Emergency Contact   -  nominated by Caregiver for this responsibility.

Voting Rights   -   Any caregivers who have the Voting Rights ticked to be included on the voters list for export. You may need to remove duplicates once you have exported. On the Caregivers page of Student Details, expand the Caregiver's details by clicking the chevron to see the list of rights associated with the Caregiver, eg. Legal Guardian, Voting Rights, Emergency Contact.

Hide Details in Portals   -  This flag hides the caregivers contact details in the caregiver portal from other caregivers ie address and phone numbers. 
To export your Caregiver details to a .csv file see People > Caregivers > Export Contact Details for export options. The data can be exported by classes or the whole school.
Looking for more answers? email support with your question.