NCEA Billing
NZQA financial assistance and billing functionality is available with invoicing options from Finance > Processing > NCEA Billing (where you have been assigned Principal's Nominee user responsibility) for single or bulk invoice, recording NCEA student finance details. Entering payments made are completed in the Finance > Processing > NCEA Billing area or Finance as detailed below. NOTE: From 2019 the $76.70 a year NCEA fee and the $30.00 for each Scholarship subject has been removed.
Recording NZQA fees - invoicing (incl scholarship), assistance, and view summary details
For schools of Year 9 and greater, functionality is available to those assigned Assessment Co-ordinator, Group Leader, Subject Leader and Principal's Nominee user responsibility permissions. A summary is available providing Year level, Form/Group and Student Type fields from which to select students. A list includes the following student details:

Student name, Year Level and Form Class (if applicable)
Financial Application Type, NZQA Fee, Fee Paid, Fee Due
Summary - Total Fees - Total Paid - Total Owed - Total Financial Application (total of I, B, F)

The generated PDF summary can be printed, and will be stored - note only the latest file is stored online. A download link appears under the tab for the latest file found. Please save the PDF to a suitable secure place on your school's network for incremental history. If you select by Form or Group then no leavers will show but if you view and print with no selection then all students are included in the summary.
Payments - where the fees collected are recorded entirely separate from edge Finance
The amount of payment is entered in the 'Amount Paid' field for each student in the Fees section. On save, the Amount Due is updated. If there is partial payment (of the full amount owed), enter the value in Amount Paid or tick the "Pay Balance" and click "Save". This will update the amount due to being fully or part paid. 
Payments - where billable items have been set up in edge
Students will have been issued with NZQA billable item fee requests for payment, and payments are allocated for students against those in edge Finance using this method:

If billable items have been set up within edge where students have received requests for payment, payments are entered and allocated against the billable items in edge Finance. For the payments to update in NCEA Billing, by using the Update process shown above, in Finance > Processing > NCEA Billing > Payments and Assistance.
Identify the Ledger Number used for the NZQA Fees billable items, to find the related items. Click "Update" that appears to start the process. Any payments allocated to these billable items are totalled for each student and this becomes the "Amount Paid" for the student in the NZQA Billing area - overwriting what had previously been recorded.


Note:  If no payments have been entered in edge Finance for a student, the update process will not overwrite an amount entered directly in the NZQA Fees area. Only students whose payments have been allocated in edge Finance will be updated.
Introduction of Scholarship fee in 2015
A New Zealand Scholarship fee of $30 (incl GST) per subject is charged from Term 1 2015, additional to the $76.70 NCEA assessment fee. International students continue to pay the full fee of $102.20 (incl GST) per Scholarship subject. For more, see Scholarship article on the NZQA website.

In edge every scholarship subject standard added for a student will attract a $30.00 item billed to the caregivers.
NOTE: Effective from 2019 the $76.70 a year NCEA fee and the $30.00 for each Scholarship subject has been removed
​Entering Financial Assistance information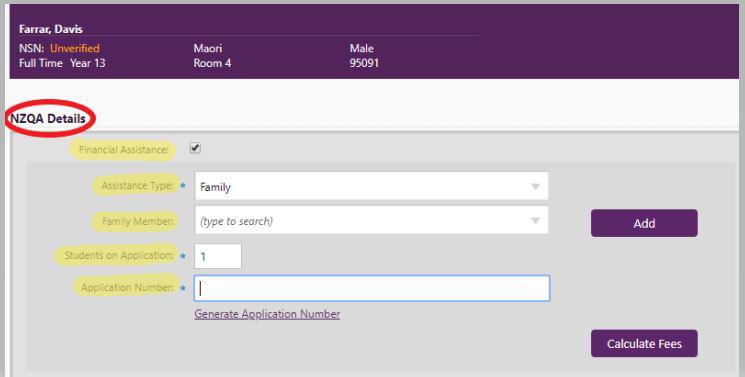 The "Payment and Assistance" tab is not only for entering payments made, but includes Financial Assistance application details for NCEA records, and application number generation if appropriate. The selection in the 'Assistance Type' (Benefit/Family/Income) details dictates data fields which follow for fee calculation. Financial assistance is not available to foreign fee paying students.

To add financial information to a selected student, in the NZQA Details section click in the Financial Assistance checkbox, which opens up the financial assistance fields.

The fields marked * are mandatory, and the student type will have determined the fee's associated rule, eg. an international student will see 'Not available for international fee-paying students' for the Financial Assistance field

If applying for Family Assistance, you need to specify the family members at your school who are siblings of the selected student. Click 'Add' to add more siblings. 'Family' type allows for two (or more) children entered in the same year with total fees for the family of more than $200, eg. of two children, one has an additional scholarship subject. The 'Students on Application' field seeks the number of children in this family doing NZQA at the moment (if applicable) and defaults to 1 (unless there has been no previous application and the Family assistance type had previously been saved). Family members can be linked to one application. 

'Benefit' type:  the 'Benefit Number' field is compulsory and must be completed. You are also prompted to save data where you attempt to move to another page after making changes and have not yet saved.

'Income' type:  There is eligibility for the Community Services Card

Click 'Generate Application Number' and edge will automatically assign the student an application number for new NZQA.

The Fees box shows the amount billed. Click on 'detail' for further information (scholarship breakdown, assistance etc).

Amounts paid and due will calculate automatically (fee 'rounding to zero' used in New Zealand commerce applies). If the amount due is in credit it will display a symbol, with 'Paid' tickbox to tick when paid - note this sets the remainder of the fees as paid. The paid tickbox is 'pay balance' which is only visible when there are fees owed. It should be noted that the paid tickbox becomes unticked if (with a change of circumstances or additional subjects etc) the amount paid is less than the amount due.

Click 'Save' at the bottom of the page.
Any changes to the financial assistance area can significantly change the amount owing, therefore a recalculation of fees is necessary. The Save button is enabled once the student fees have been recalculated.
For fee calculation tables, and advice on Financial Assistance the following link is recommended from the NZQA website NZQA Fees and Financial Assistance.
NCEA Invoice (single and bulk)
Single and bulk invoices are available with filtering, and the ability to create an editable note which can appear at the bottom of each invoice.

The last Note entered displays which can be edited or deleted, however there is only one Note appearing on each invoice.

Clicking 'Process' generates a PDF in the background, notifying when the job is finished. The last generated invoice only will be available, with a 'Download' link at the top of the page

For single invoices:    the Student selector is derived from a summary of students' standards therefore only those students who have standards attached, excluding Leavers, are included. The details are from students currently Enrolled status only. 

For generating bulk invoicing:  the following filtering options can be applied:

School year level
Form Group (if applicable to your school settings)
Student Type
Bulk Invoicing is queued, notifying when the job is finished and a download link appears at the top of the page. Only the last generated invoice is retained online.
Looking for more answers? email support with your question.