Macrons settings
Once settings are configured for selecting "Maori NZ" for language (eg. in Windows), caregiver reporting fields can accept macrons. Instructions for running both Windows Vista or above, and Mac OS X Lion or above are included.
For Windows and Mac operating systems, to use macrons for caregiver reports when configuring reports headings or entering data, these can accept macrons once the keyboard settings have been saved.
To set this up for Windows
Windows 7
Start > Control Panel > Region and Language

Click the Keyboards and Languages tab > Change keyboards

From the Text Services and Input Languages dialog, click "Add"

Scroll to double-click expanding Maori (New Zealand), double-click expanding Keyboard, tick the "Maori" checkbox

Click OK,     OK,     OK

This will include an  EN  icon on your task bar (for English language setting). Click on this icon to change the setting to select MR for using Māori macrons.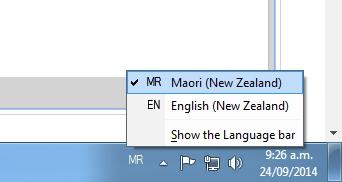 Note: This setting only affects the browser Window (and tabs open therein). Ensure whenever you require the macrons, that you see the MR ("Māori NZ") on your taskbar.
Windows Vista or above
Start > Control Panel

Clock, Language and Region > Change keyboards or other input methods

Click 'Change keyboard'

Click 'Add', then scroll down to English (New Zealand). Expand 'Keyboard', then click 'Show more'

Find 'Māori' in the list, tick it, then click OK

Change 'Default input language to English (New Zealand) - Māori
To set this up for Mac
OS X Lion or above
If you're running Mac OS X Lion or above, there's a handy system-wide keyboard shortcut available.
Hold down the key for the vowel you want to macronise for about half a second. A small dialog will pop up showing you several options, including a macron. (It's worth noting that this works on iPad and iPhone keyboards, too.)
Older than OS X Lion
Launch the System Preferences application.

Navigate to Language & Text, then the Input Sources tab

Find Māori on the list and tick the checkbox next to it

Tick the box next to "Show Input menu in menu bar"

From the Input menu in the menu bar (near the upper right corner of the screen), select 'Māori'
Hopefully that takes the mystery out of typing Māori macrons on your PC or Mac.
To use the macron inside the comment box
Windows
After setting things up, in this example, to achieve the  ā  in "Māori":
On your keyboard numbers row, hit the  ~ (tilde)  key and a (or other desired vowel) and the character with the macron included will be inserted.
Mac
After setting things up, you can then use one of two keyboard shortcuts to type macronised vowels.
Type `, then the vowel (i.e.  `+ a = ā)
Hold down Option/Alt + vowel (i.e.  Option + a = ā)
Just one final note: Never substitute umlauts (two little dots over vowels we see in German words) for macrons. Māori and Manawatū are correct; Mäori and Manawatü are not.
Looking for more answers? email support with your question.